Installing a fence in your garden might not feel like the most complex decision you've ever made, but there's a lot to consider when it comes to choosing how you want it to look and what functional properties you want to incorporate. In this comprehensive guide, we'll break down the six main fencing types and what you need to consider when looking at these different types of garden fencing. We'll also cover the different elements and considerations that you need to take into account when it comes to installing a new fence in your garden.
Contents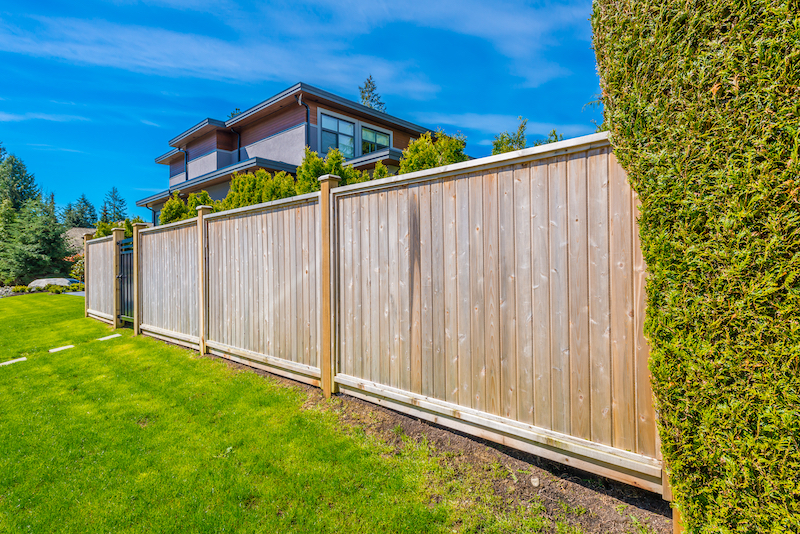 1. Before you purchase your fence
Regardless of the type of fencing that you land on, there are a few things that you need to consider before you go out and buy.
Size
The first thing to consider when considering fencing types for your garden is the size. Of course, taller fences provide more privacy but it's worth considering whether they will also cast shadows and block sunlight during the earlier and later portions of the day when the sun is low.
Width
The standard width for traditional panels is 6ft or 183cm, whilst European-style panels typically measure 180cm across. If you're only replacing your fence panels and not your posts, then it's important you measure to ensure you get the right fit.
Height
Generally, fence panels come in 4 different heights: 3ft, 4ft, 5ft and 6ft. Most planning authorities require permits for fences that exceed 2 metres.
Even when buying standard-sized panels, it's important to conduct your own measurements, particularly when it comes to width.
Laws and safety
Apart from height restrictions, there are a number of other laws and restrictions put in place when it comes to garden fencing that ensures you're complying with safety and ownership rights.
Whilst you're free to put up a fence without consultation as long as it's on your boundary and doesn't exceed height limits, it's good neighbourhood courtesy to talk to your adjoining neighbours beforehand to check that they're happy with the height and panels that you plan to erect. It's particularly important to keep them in the loop if they have children or dogs, as there may be periods throughout construction where there's no physical boundary between your properties.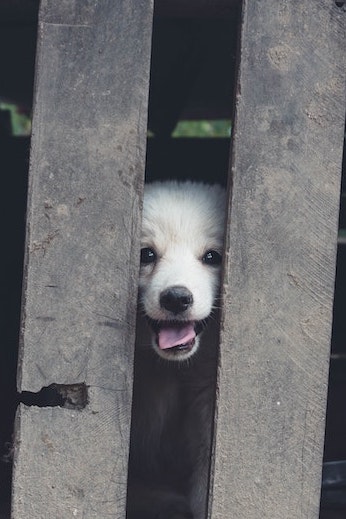 If your property borders a footpath or other public area, then you also have a duty of care towards people walking past. This means that it's particularly important that your fence is safe, sturdy, and doesn't pose any hazards. Often, homeowners are tempted to install theft deterrents such as barbed wire or smashed glass concrete, but if these pose a risk to innocent pedestrians, they won't be permitted. Check with your local planning authority if you're ever unsure.
Lastly, make sure that your fence panels come with a guarantee before making your purchase. This will ensure that you're protected against design and manufacturing defects.
Purpose
Think carefully about what specifically you want your fence to achieve: is its main purpose privacy? Or perhaps you want something more subtle that simply defines your garden boundary. This may sound obvious, but particularly if you're replacing an existing fence, you may never have considered the breadth of functions and benefits that different types of fences can achieve.
You should also consider what kind of weather your fence will need to withstand, as some fencing types offer minimal durability compared to others (if you need more advice on windproof fencing, we've got you covered). Bear these factors in mind as you consider the different fencing types that we go through here.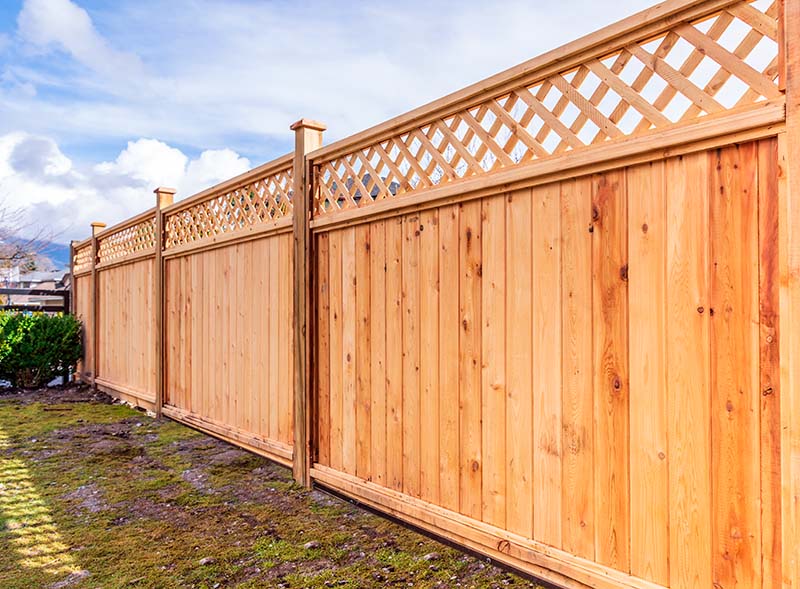 2. Fencing types
Whilst the different types of fences encompass an endless range, we're going to loosely group them into six main categories.
1. Vertical board fencing
Closeboard and featheredge fencing are the two main styles of vertical board fencing, which use overlapping vertical boards with supporting horizontal rails on the reverse side of the fence (typically between 2-3). This contributes to a robust fencing option that is equipped to withstand high winds and seasonal movements.
Featheredge Fencing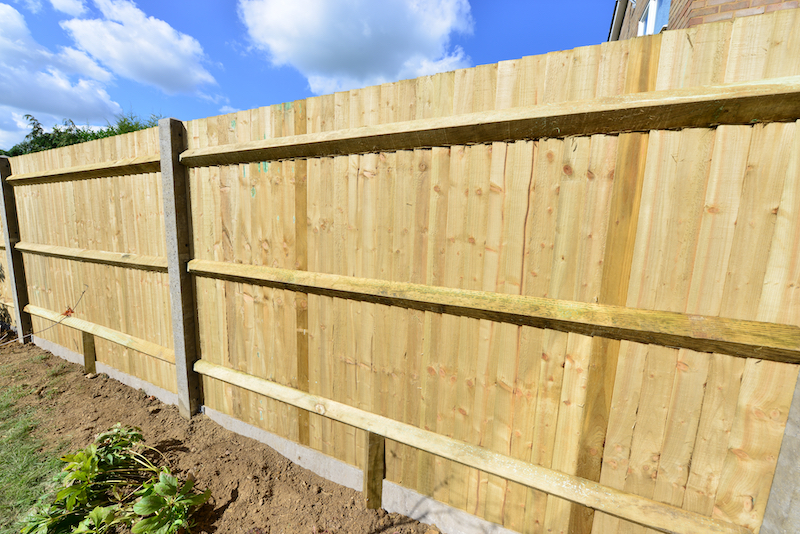 Featheredge panels are tapered with one leading thicker edge.
Closeboard Fencing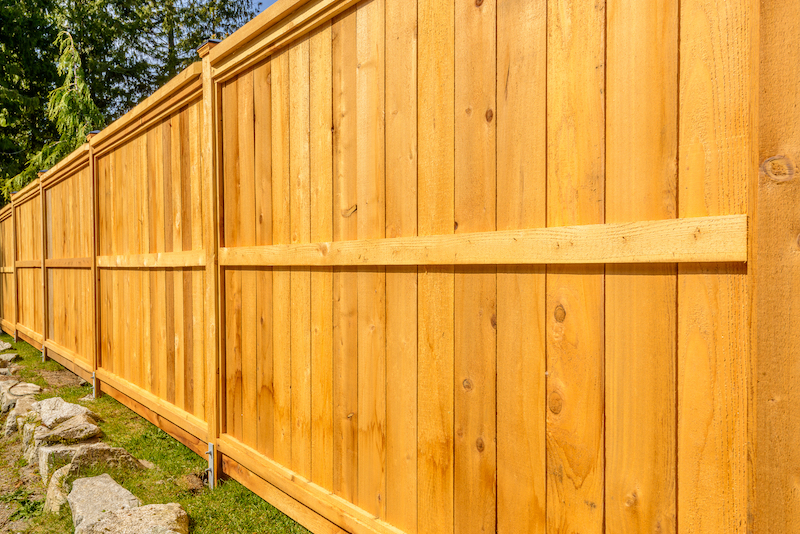 Close board fencing refers to the wooden perimeter frame that surrounds the fence panels.
There are also more simple vertical board fences that don't use tapered panels. Vertical board fencing is a reliable option if you're looking for a clean and traditional appearance, with a strong, durable design. Better still, there are usually heavy-duty options available that give you that extra level of stability.
2. Larchlap / Overlap fencing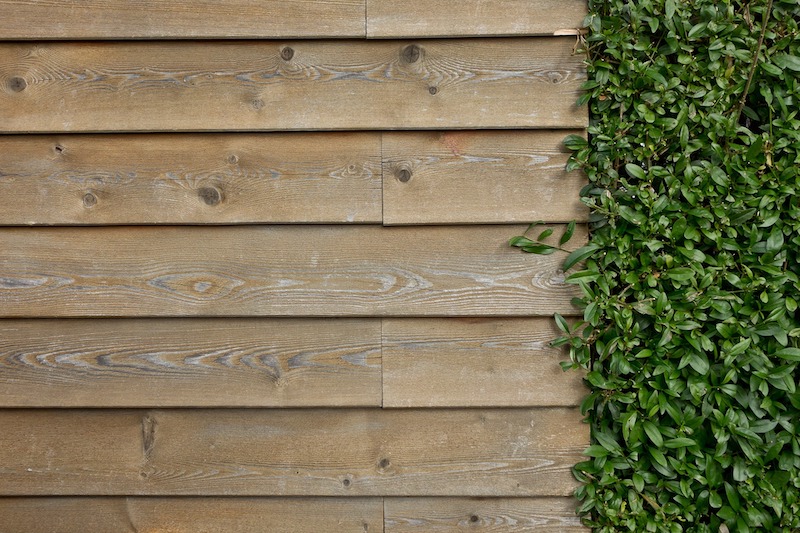 Larchlap or overlap fencing involves rows of horizontal boards overlapping each other to create a solid fixture, with panels cut either in a waney edge or straight-cut design. Like featheredge fencing, this provides ample privacy and security, but it is generally more economical and lightweight than the former.
Larchlap fencing can be a good option if you're trying to keep costs low, but it can be prone to cracking and damage if you don't treat it regularly.
3. Picket / Palisade fencing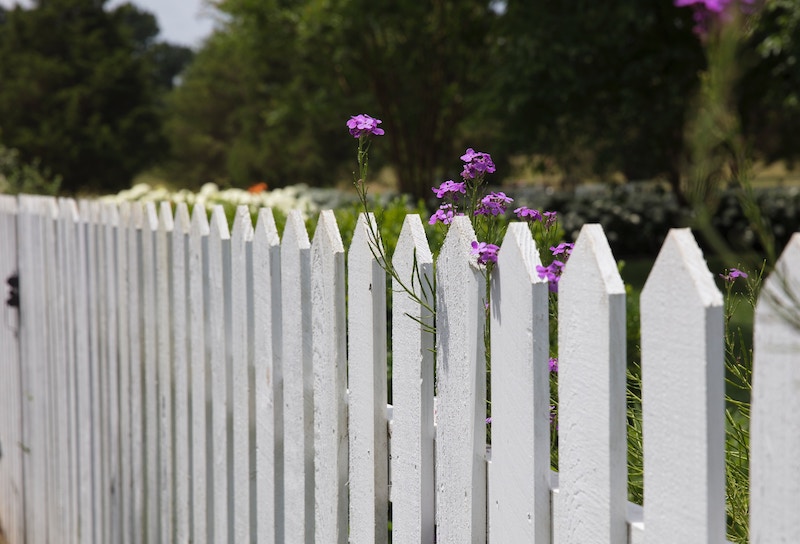 Picket fencing is a traditional type of garden fencing that uses spaced vertical panels or pales, fixed along two horizontal rails on the reverse. These types of fences are most commonly used in front gardens as a decorative boundary and are commonly painted white to exaggerate their 'classic' character. They come in a variety of styles and pale shapes, including spear, bishop, square and acorn.
Picket fencing is a good option if security isn't a concern. They are considered fairly wind resistant due to the gaps between panels, which allow wind to flow through freely.
4. Slatted panel fencing
Slatted fencing is a style of modern fencing that uses horizontal slatted boards, spaced apart with visible gaps in between. There are many different ways that you can fit slatted fences, from the angle of your boards to the use of double slats to create a more solid design. Amongst these different styles, there are Venetian, Louvre and Hit & Miss panelling, which all provide privacy whilst still allowing for airflow.
Venetian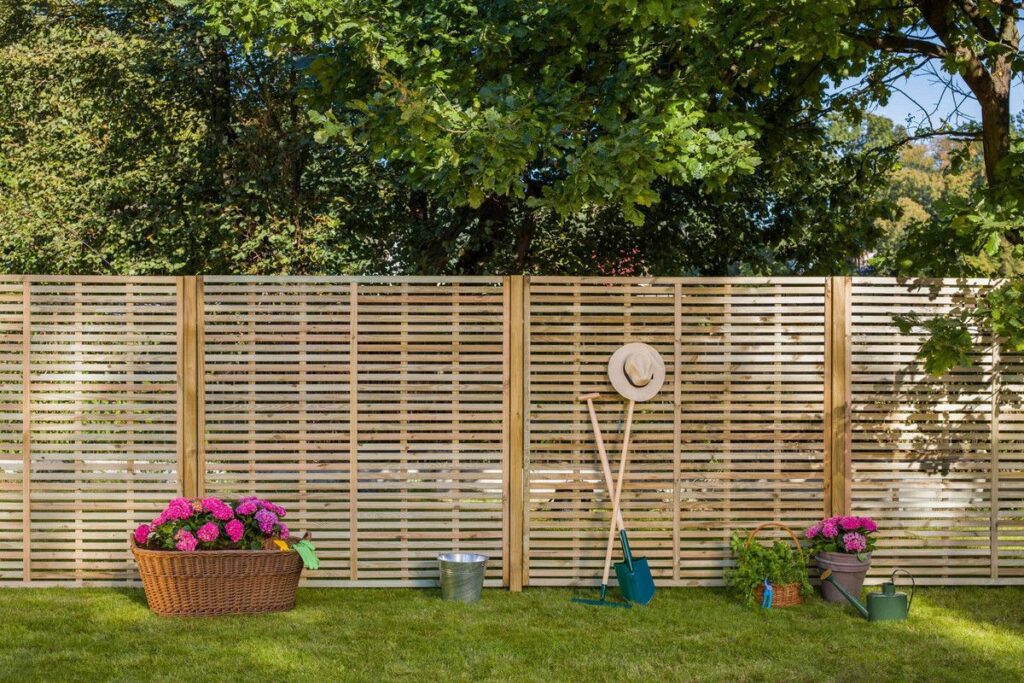 Venetian slats tend to sit flat in separate rows.
Louvre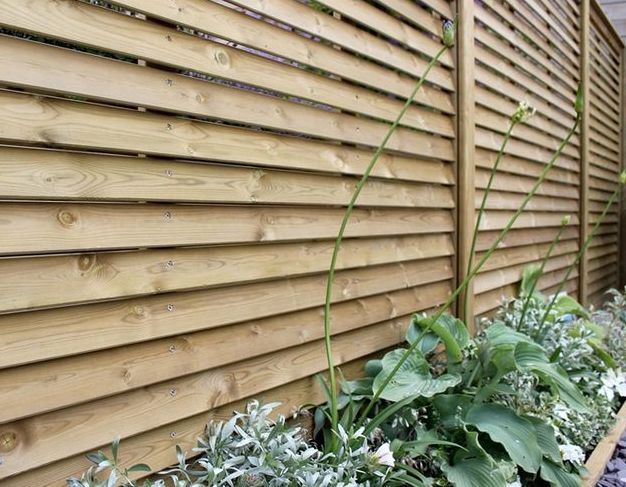 Louvre panelled fences feature overlapping angled slats (much like Louvre blinds).
Hit & Miss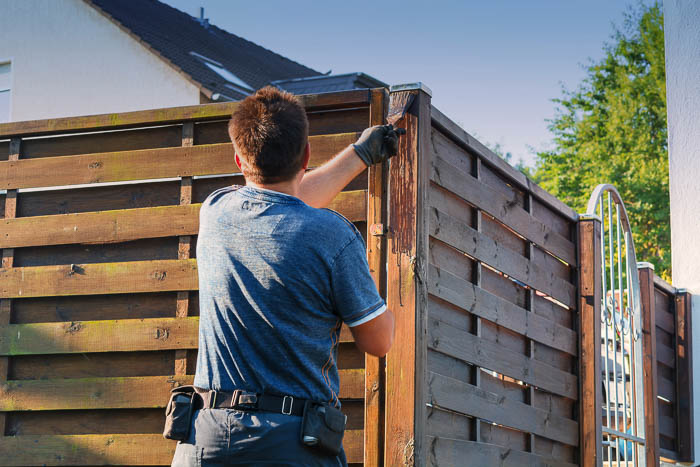 Hit & Miss panelling is where boards are laid on their front and back in alternating fashion.
Hit & Miss fencing is particularly good at wind resistance as the design allows wind to pass through with limited force against the panels. Generally, the more 'solid' your fencing, the more prone it is to wind damage, but Hit & Miss fence panels provide an excellent balance of privacy and resilience.
5. Lattice / Trellis fencing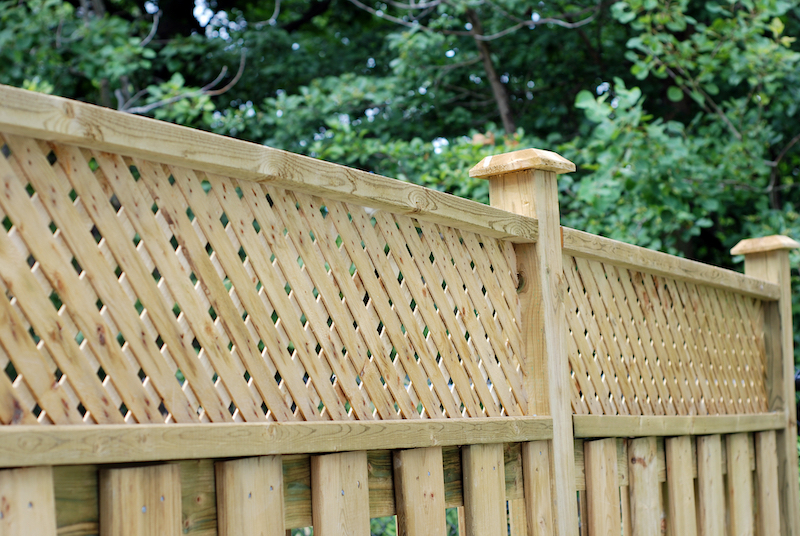 Lattice or trellis fencing is a decorative style of fencing that involves using lattice panels to build an open partition, often used to support climbing plants. Often, lattice fencing is fixed to the top of another solid-panelled design, adding character and allowing light to pass through the top portion of the fence. You may find this type of fencing categorised within the 'continental fencing' sections of supply stores.
This is a good option to go for if you want to make a garden feature or "living wall" out of your fence. Often, solid wooden fences can make your space feel harsh and confined, so incorporating plants into an open design like this one is a great way to soften your boundaries and maintain coherence with the rest of your garden.
6. Tongue and groove fencing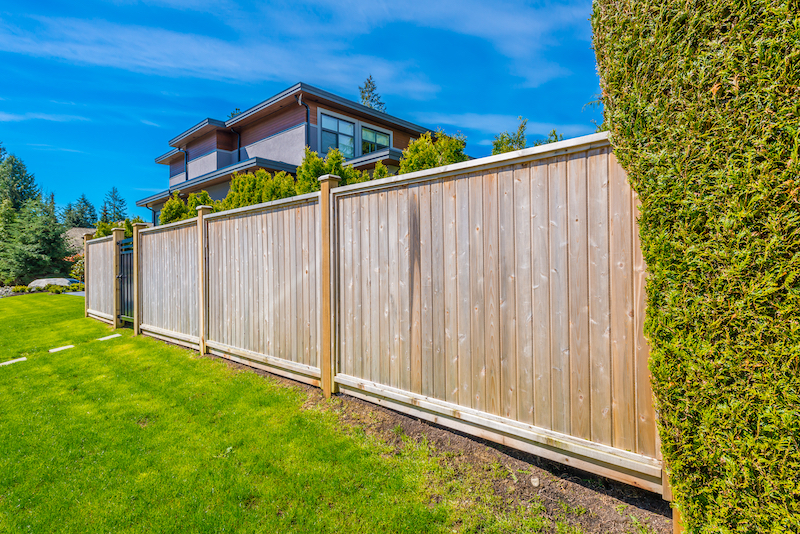 Tongue and groove fencing (sometimes also called lock-groove fencing) features thick interlocking boards which provide excellent strength and protection. Panels are cut in such a way that they slot tightly into one another to form a solid surface. Boards can be fitted either in a vertical or horizontal orientation.
This type of fencing is ideal if you're looking for something robust that can help with noise reduction, perhaps if you live close to a busy road. Tongue and groove fencing is designed specifically so that noise is absorbed, diffused and reflected by the interlocking panels. The interlocking design is also great at preventing debris from accumulating between the panels or weeds growing through.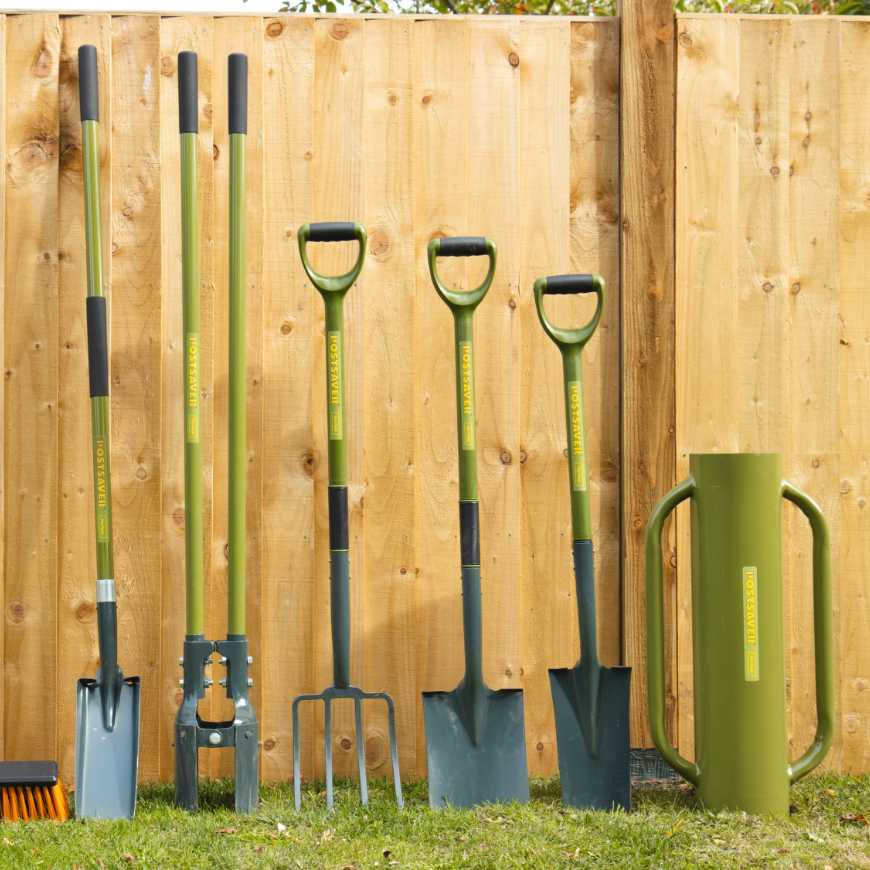 3. Installing your fence
Once you've chosen the right fencing panels for your job, there are a few other pieces of equipment that you'll need to consider to pull it all together.
Fence posts
Not surprisingly, posts are an integral part of any garden fence. It's important that you find a reputable supplier who can guarantee the longevity of their posts since they provide crucial structure and are the aspect of your fence that is most prone to rot due to their direct contact with the ground.
Wooden fence posts tend to be the more popular form of fence posting due to their natural appearance, allowing for cohesion with your wooden fence panels. They are usually made from pressure-treated timber.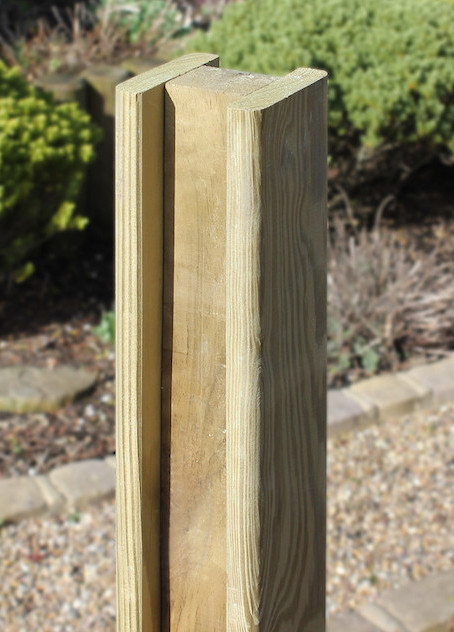 Concrete fence posts can provide more stability and durability than wooden fence posts but they're not always as pleasant to look at and are incredibly heavy to handle. If you need something that requires minimal maintenance and can withstand any weather extreme, then concrete fence posts can be a reliable choice.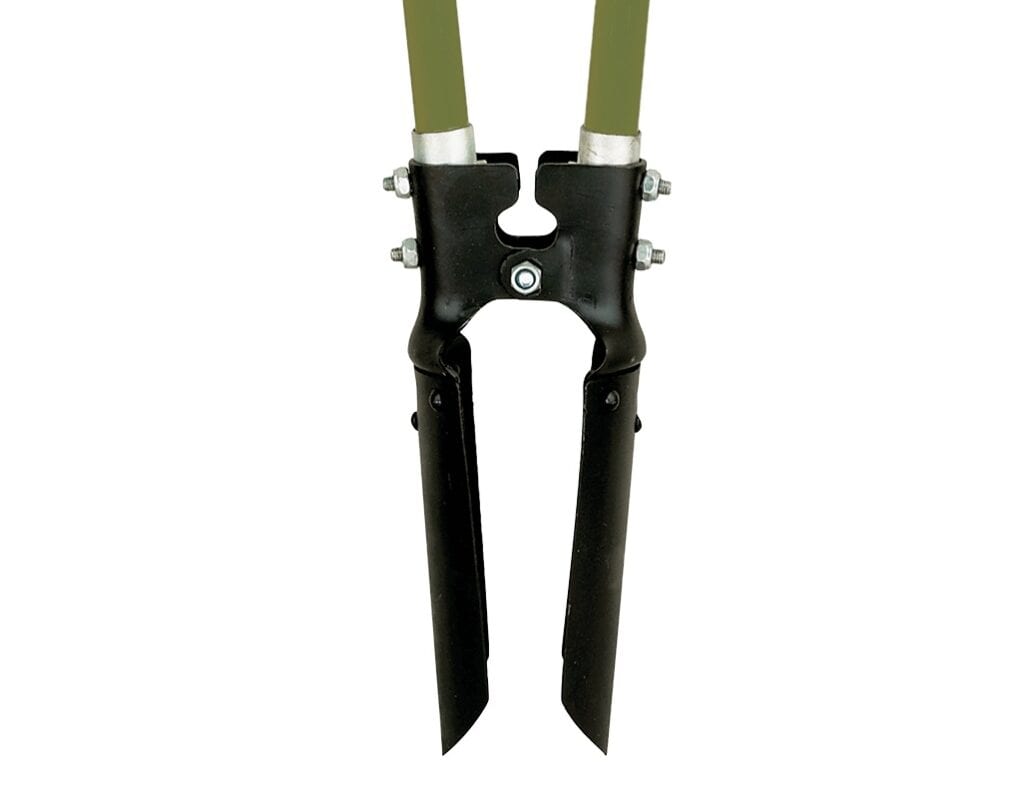 If you're fencing in soil, then you'll need to dig a hole for your posts to sit in. As a general rule of thumb, you should have 2ft (60cm) of your fence post buried beneath the ground, to ensure stability. The Postsaver Post Hole Digger is designed specifically for posts of a 6-inch diameter, allowing you to remove exactly what you need with limited backfill.
You can also use a post-fixing foam to secure your wooden posts in place, and install post guards to protect the bottom of your posts from damage commonly caused by strimmers and brush cutters.
If however, you're fencing on concrete, then you'll need a fence post support such as a bolt-down shoe, which will allow you to secure your posts to the solid ground. It's worth bearing in mind that you won't need to account for the extra length needed for posts being pushed into lawns or soil.
Gravel Boards
A gravel board is a concrete or wooden board that goes between your fence panels and the ground beneath. These are often used to protect your panels from moisture damage caused by contact with the wet ground as well as provide an extra layer of stability against wind and movement. Gravel panels can also be used to add height and can give your fence a more pulled-together, professional appearance.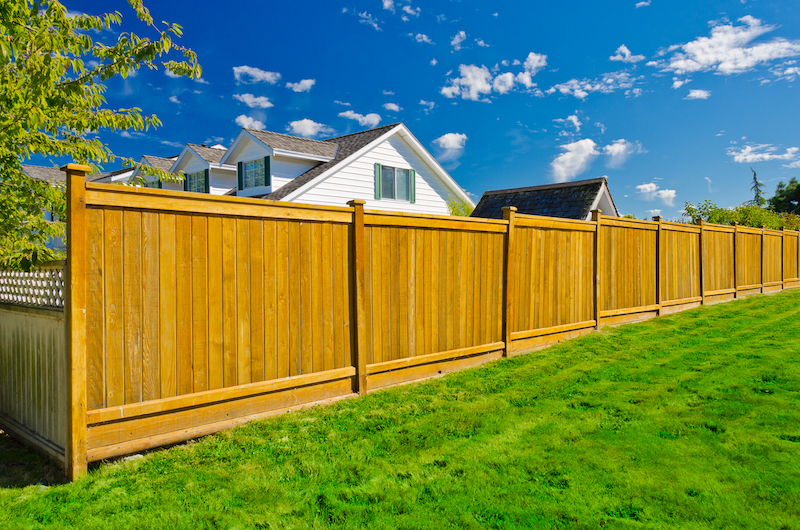 Creating gaps in your gravel boards is a great way to support local wildlife, as it allows small animals such as hedgehogs to roam freely between gardens. You can frame these wildlife corridors with fixtures like our Hedgehog Highway.
Most gravel boards are either made from timber or concrete and typically come in a standard size of 150mm (though you can find varying heights). Much like fence posts, timber gravel boards offer a more traditional, cohesive appearance with your fence, whilst concrete gravel boards offer a stronger, lower maintenance alternative.
If you're working with uneven ground or a sloped property, installing a gravel board can help to hide any 'steps' that you need to create with your panels, and can make it easier to angle the bottom of your fence to fit the ground.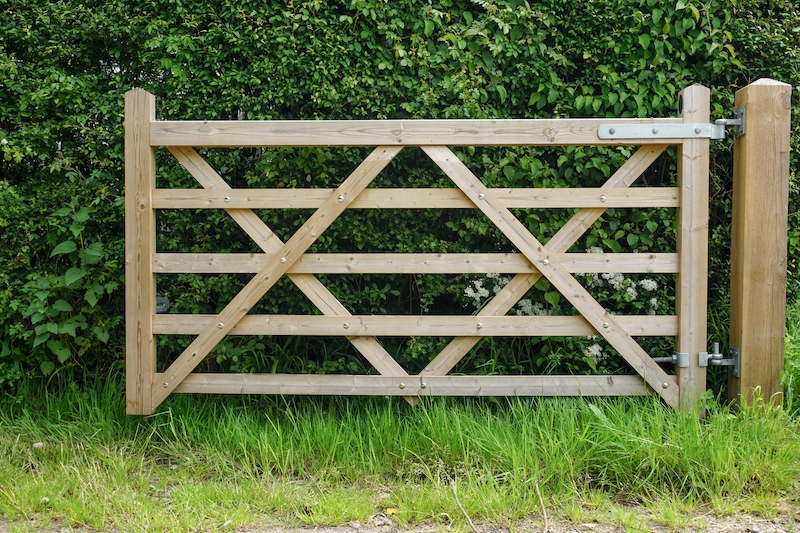 Gates
Gates provide a secure and seamless access point if you have fencing that fully encloses your garden (which is a good idea if you have dogs or small children, or simply want that extra level of privacy). Most suppliers will offer matching gates for their fence panels that allow you to maintain stylistic consistency. Once again, just make sure that you measure up before buying.
There are various modifications and accessories that you can invest in to improve the security and functionality of your gate, such as drop bolts (locks that anchor your gate to the ground), self-closing gate hinges and latching locks.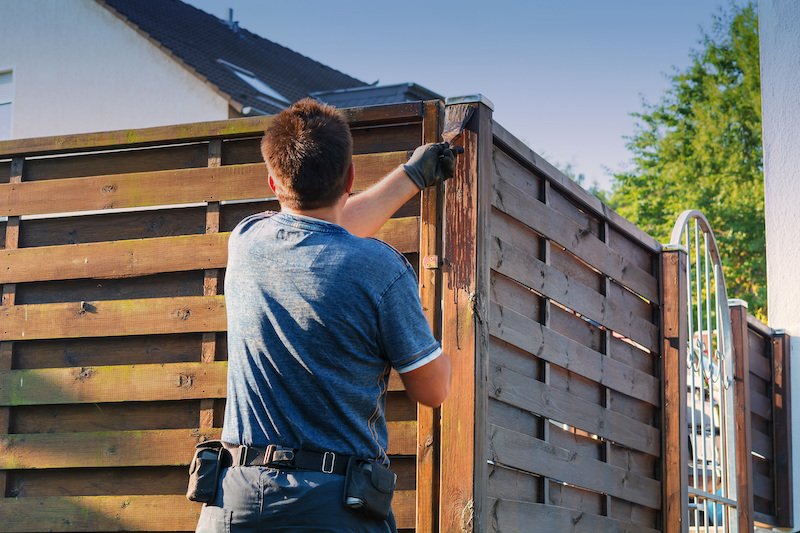 4. Fence treatment
Whilst some materials and designs are inherently more durable than others, if you want to maintain the appearance and stability of your fence, you need to ensure that it's properly treated.
Paints and stains
When it comes to adding colour to your wooden fence, you generally have one of two options: paint or stain. With either, make sure that your fence is prepared beforehand, removing any hardware as well as sanding and cleaning your posts and panels to avoid paint and stain sticking to any unwanted particles.
You can achieve the boldest colours with wood paint, however, it can also be prone to cracking and may require regular touch-ups. If you are opting for wood paint, use a latex paint that's designed specifically for use on sheds and fences, and purchase a primer and sealant that have the same base as your paint (oil or water-based). You generally have a wider option of colours when it comes to wood paints than you do with wood stains.
Generally, wood stains wear better over time than wood paints, though their appearance is less opaque and your colour options tend to be limited to shades of brown. They are easier to re-apply than wood paints and usually offer stronger preservative properties. Available in both light and dark brown, Postsaver Creostain is a wood stain treatment that provides your fence with protection from the elements as well as long-lasting colour.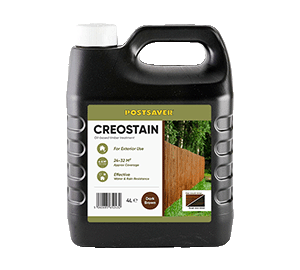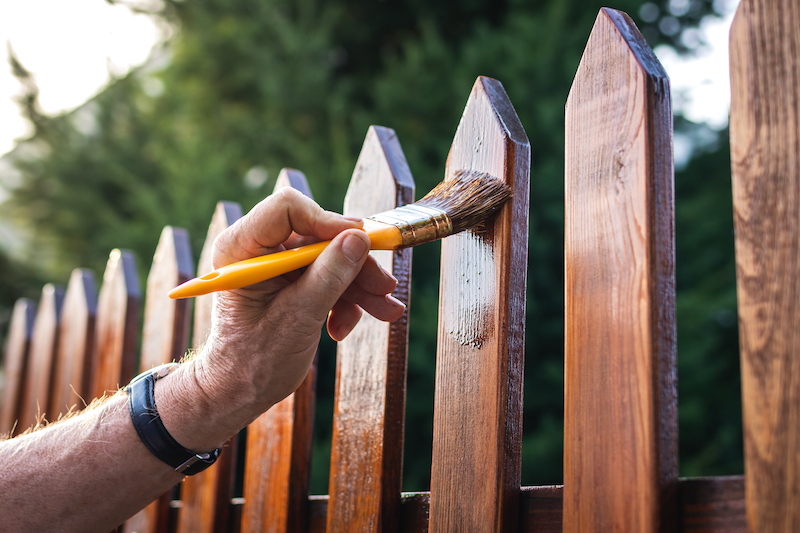 Some modern fences are made with PVC vinyl, which generally can't be painted as it's a nonporous material meaning paint won't adhere to it properly.
Treatment
Whilst paints and stains help to provide protection for your fence, you also need to consider how your panels and posts have been pre-treated, as well as how you can protect them from post-rot where they meet the ground. Postsaver Post Rot Protection is a reliable way to protect your fence posts against ground-line rot and decay.
Dip-treated panels
Dip-treated panels are those that have been treated during the manufacturing process. You can usually recognise them by the more golden appearance of their wood, though this will fade over time and you will need to re-treat them (usually once a year is enough). You will also require a gravel board for these types of panels so they don't have direct contact with wet ground.
Pressure-treated panels
Pressure-treated panels have also been pre-treated before you buy them, but this treatment process involves forcing anti-rot preservatives into the cellular structure of the wood. This means that it doesn't require you to keep up with annual re-treatments.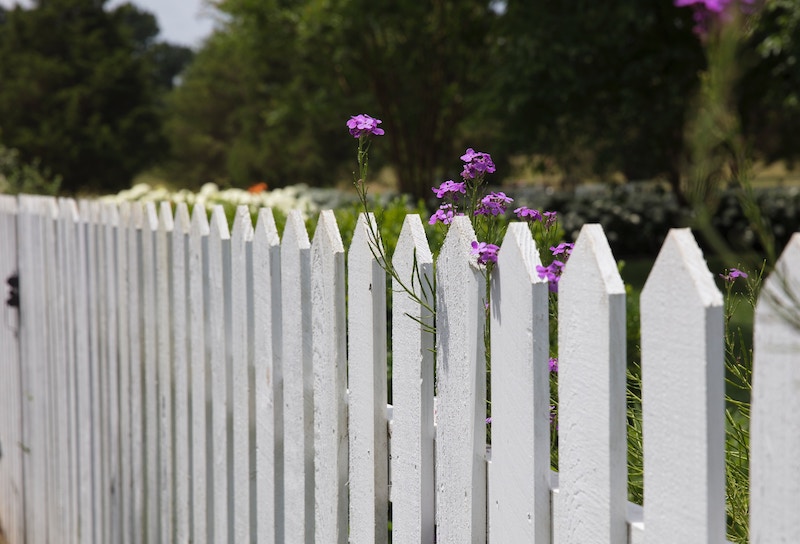 5. FAQ
How much does a new fence cost in the UK?
When it comes to pricing, fencing costs can vary across a number of different factors. Different materials and designs can bump the price up, and if you're hiring local fencing contractors, their labour costs will likely account for a significant portion of your budget.

Shorter fences and less complex designs will naturally err on the cheaper side as your contractors will require less time to install them. However, you still need to consider the costs of removal, delivery and installation, so try factoring in between £150-£400 a day to pay your contractors. In the UK, a typical budget for a new 11-metre (36-foot) fence ranges from £700 to £1,000.

There are some things you can do to bring these costs down. Consider sourcing local products to reduce or avoid delivery costs, and if you're able, remove your old fencing beforehand and ensure that your garden is properly prepared by cutting back any foliage that may get in the way. You can also commit to painting or staining your fence yourself to avoid this additional charge. Of course, the cheapest option is to install your fencing yourself, but it's important that you understand how to fix it to a professional standard.
Who is responsible for the garden fence?
Garden boundary disputes are an age-old source of tension, mostly because most people are unaware of the legalities, and guidelines can often be unclear and contradictory.

Thankfully, most modern properties usually include details of boundary ownership in their title deeds that clearly stipulate where the property's boundaries lie and which fences and walls this incorporates. However, some older properties may leave room for contention. If you have to rely on presumptions, it's usually the case that if the fence is on your land, it's wholly your responsibility. This means that you carry the costs of repair and maintenance, but also that your neighbour can't paint or decorate the fence without your permission, even on the side that faces their property.

Party walls and fences refer to those that are jointly owned between multiple properties. If your title deeds mention a party wall, this means that both you and your neighbour are responsible for its maintenance and upkeep.

If you're unclear or find yourself in a boundary dispute, you can hire a land surveyor (usually for between £200 – £1000 per day) to determine where your property's boundaries lie. You can then register this 'determined boundary' on the gov.uk website (applications cost £90).
What is the best colour to paint a garden fence?
Lighter colours will make your space feel more bright and open, whilst darker shades will add depth and contrast. If you're going for a more traditional look, stick to soft, earthy shades such as muted greens, browns and greys. Cooler greys and navy blues can be used to add a more modern touch.

As we've mentioned, you'll have access to a wider range of colours with wood paints, whilst wood stains will achieve a more naturalistic appearance.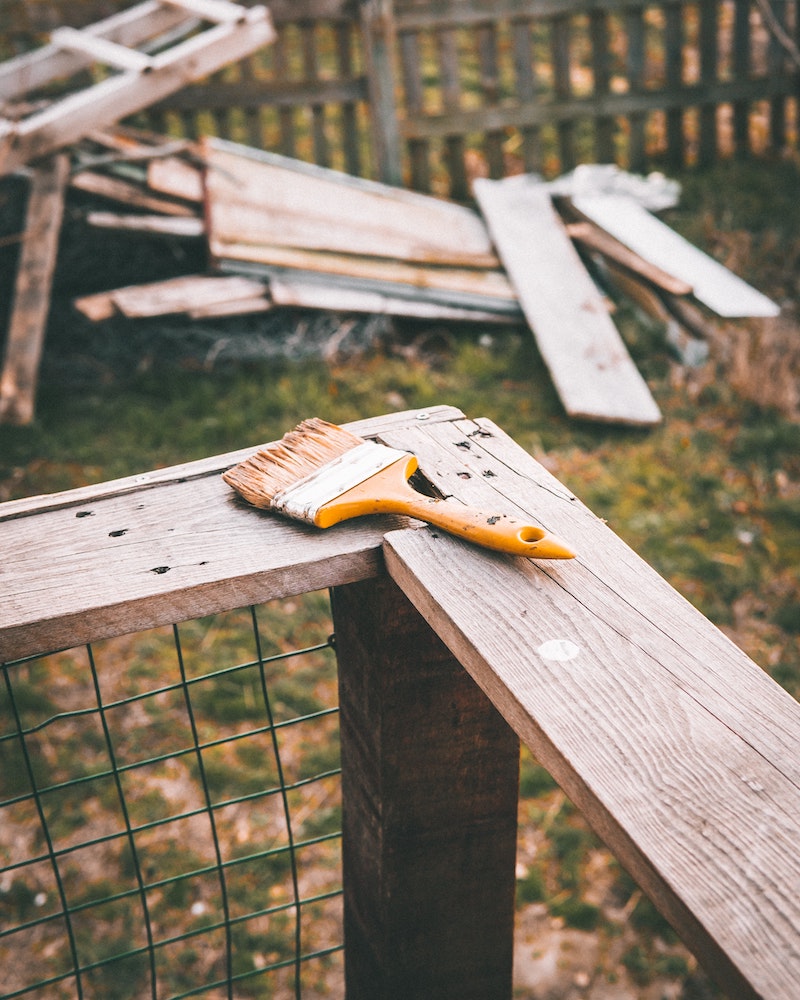 How tall can a garden fence be?
Generally, back garden fences shouldn't exceed 2 metres in height, whilst those in a front garden or area facing a public road should be less than 1 metre. As long as your fence doesn't exceed these limitations then you generally won't require planning permission or a permit, however, you can check with your local planning authority to confirm specific regulations. Don't forget to account for gravel boards and trellising when measuring your fence's height.
How to decorate a garden fence?
As well as the structural components that we mentioned (posts, gates and gravel boards), there are a number of decorative additions that you can incorporate into your fencing project to elevate its appearance and achieve a more cohesive look.

Fence post caps and finials are attached to the top of your posts for a more polished appearance as well as an extra level of protection from the elements. Post caps require either construction glue or nails to secure them in place, whilst finials work by screwing the fixture into a drilled hole on the top of your post.

You can also attach features such as suspended planters, hanging baskets, lights and bird feeders to your fence to take advantage of the vertical space and draw eyes upwards.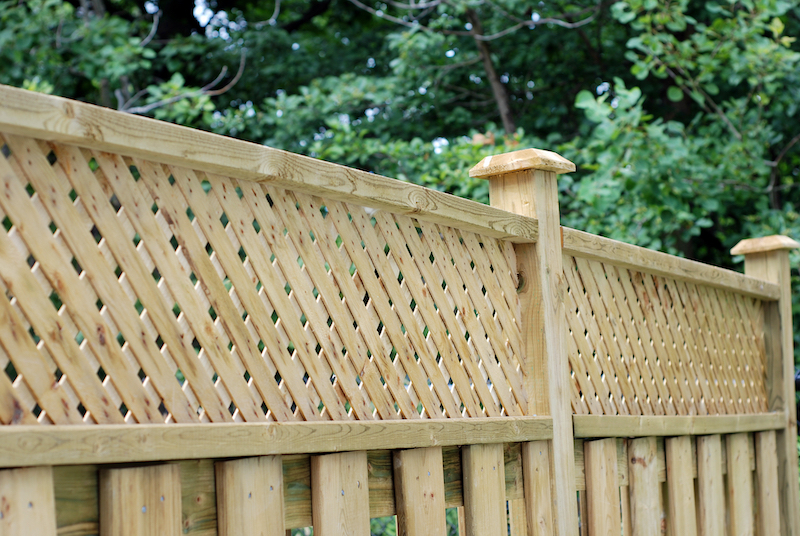 6. Wrapping up
So there you have it - everything you need to know to get started with your garden fencing project. It can be tempting to cut corners to save time and money, but you want your fence to be around for as long as possible. If you know what you're doing and how to work with your chosen design and materials, then it doesn't have to be an expensive or cumbersome process.
There's a huge range of options to choose from when it comes to all the different fencing types. Take some time to consider which one will work best for your garden, and what other aspects you need to consider before you go ahead and install it.