Why do Fencing Stockists and Distributors Embrace Postsaver?
With over 7 million sleeved posts and poles in service and a 20-year track record with virtually zero reported failures, Postsaver offers proven assured wooden fence post life extension that is realistically in-line with industry and customer expectations.
Many stockists see Postsaver as a means of giving their customer choice with the option of additional protection and lifespan whilst also adding value and enhancing margins. It gives them peace of mind knowing they have a genuinely reliable product; this will increase their reputation, and business will thrive through word of mouth and customer recommendations.
A recent new stockist 'Fountain Timber' said:
"We decided to invest in Postsaver to give our customers choice and to help them protect their investment in the future. In offering Postsaver we are responding to our customer concerns and expectations, and we feel that the Postsaver sleeve and our timber will give our customers peace of mind".
Postsaver offers a wide range of sleeve sizes to fit all post and pole sizes and a full range of competitively priced application equipment.
To ensure good sell through it's backed up with, free of charge leaflet dispensers, point of sale literature and yard banners.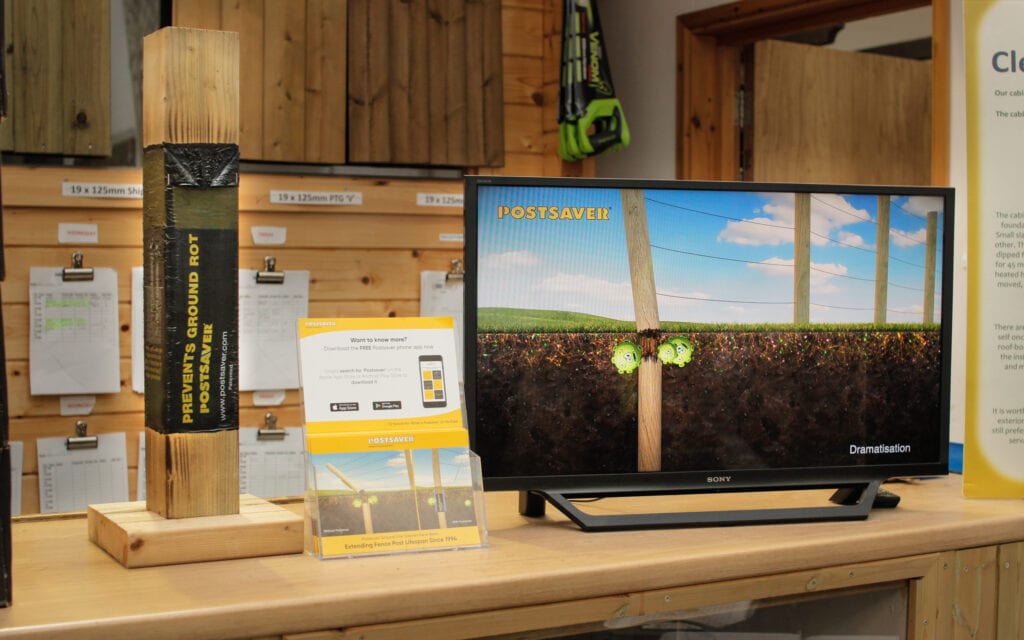 The dual-layer, heat shrinkable, sleeves are quickly and easily applied to the vulnerable ground line section of the post with a gas blow torch isolating the wood from the causes of rot and decay.
As well as a long and successful track record in "real life" field service Postsaver sleeves have also been subjected to rigorous independent testing to confirm their efficiency in preventing ground rot.
Who uses us
Traditionally our customer base has been a good spread of stockist generally tending to be Contractors, Landscapers, Local Authorities, Farmers and Landowners. With growing demand more and more fencing stockists and distributors are now carrying Postsaver.
In the last month alone we have over 35 new fencing outlets committing to stock Postsaver! Postsaver sleeves are now specified as standard fit by over 50 local authorities as well as The Forestry Commission, The National Trust and also specified by Network Rail for use on replacement trackside fencing.
Postsaver ground-line sleeves have been in production for over 20 years and have been preventing ground line decay in fence posts, gate posts and utility poles worldwide ever since!