Nature is always going to do its thing, but it sure would be nice if it left our fences out of it. Fortunately, there are a number of ways that you can protect your garden fencing against the brutality of nature and ensure that your fencing remains intact. In this comprehensive guide to windproof fencing, we'll break down the best types of fences for wind resistance as well as what to do if yours has blown down.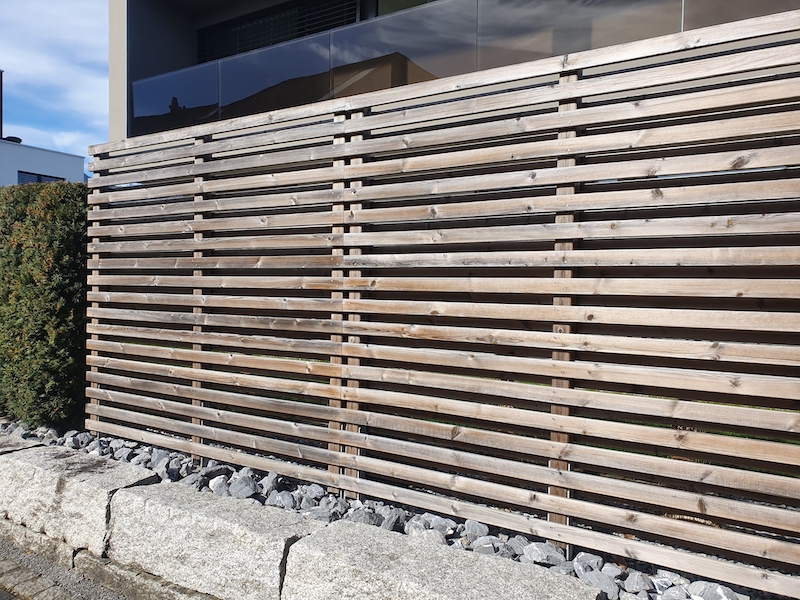 1. What are the best fence panels for windy areas?
Windproof fencing needs to allow for wind to pass through it with ease. Fence designs that incorporate gaps allow for wind to disperse through them, thus reducing the pressure put upon the panels.
Lattice / Trellis Fencing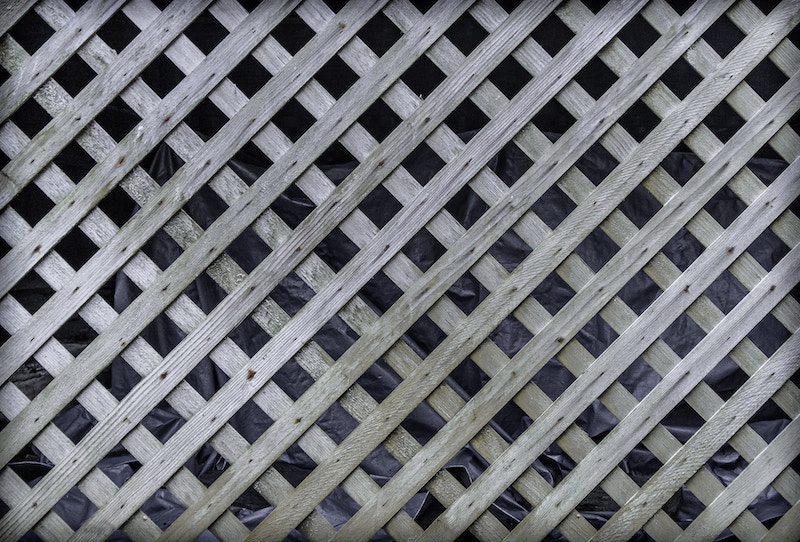 Lattice or trellis fencing is made up of latticed (crisscrossed) panels that build a semi-open partition, often used to support vines or climbing plants. These gaps allow for wind to pass through and make for a strong fencing type when it comes to wind resistance.
Lattice fences come in a variety of designs, but it's worth noting that the bigger the gaps are, the less wind resistance it will provide. If you're concerned about privacy, you can train climbing plants to partially conceal the gaps in your lattice fence.
Picket Fencing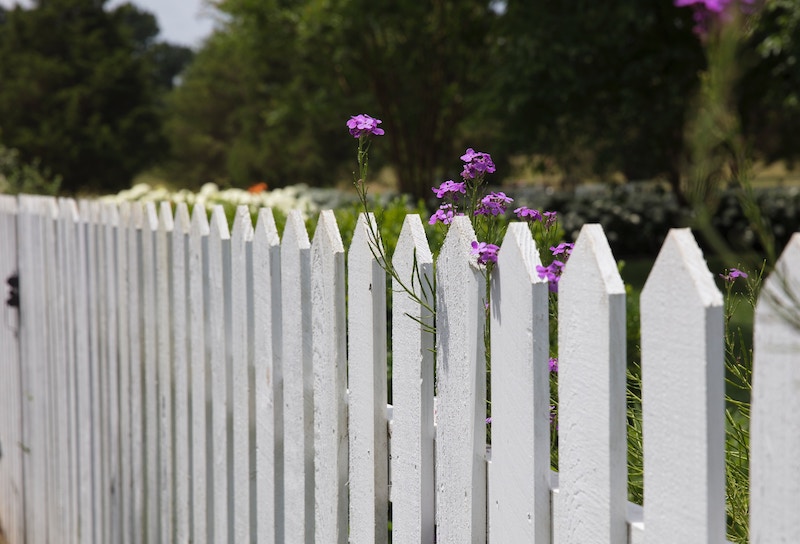 Picket fencing is comprised of spaced vertical panels or pales, fixed along two horizontal rails on the reverse. As with other semi-open fence designs, this allows wind to pass through with limited force against the panels.
The large gaps and short vertical height of picket fencing make it an ideal choice for windy areas, however, these same features mean that it offers limited privacy and security.
Hit and Miss Fencing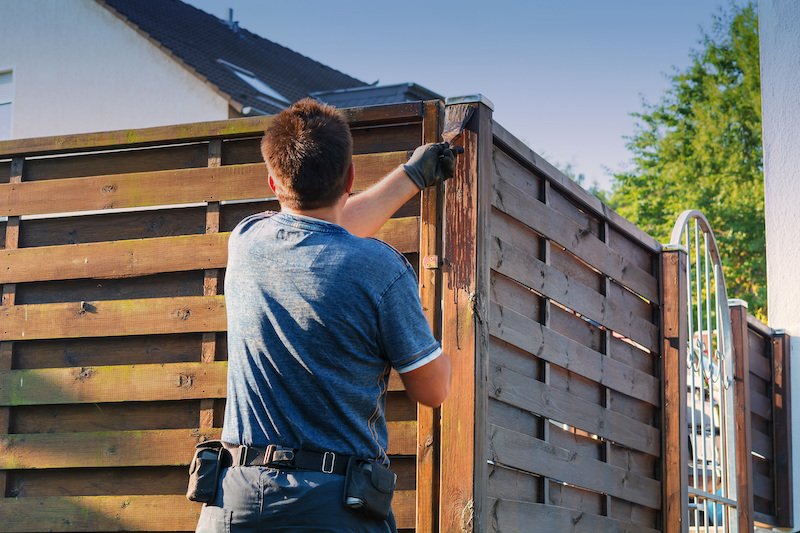 Hit & Miss fencing uses boards that are positioned on both the front and back of the fence in alternating fashion. This makes it particularly good at wind resistance due to the fact that the structural design is evenly weighted across both sides of the fence.
The benefit of hit-and-miss panelling is that it provides wind resistance whilst still maintaining privacy, due to the fact that the alternating panels.
Slatted Fencing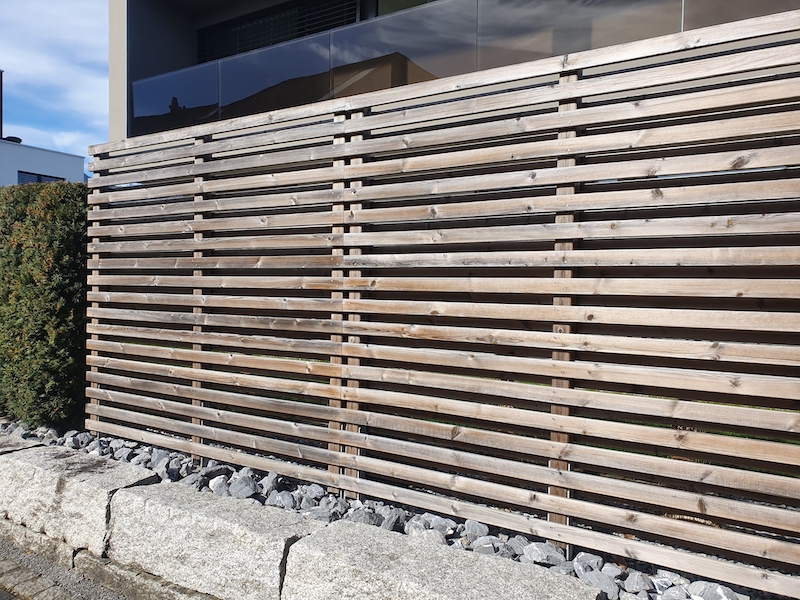 Slatted fencing is also considered a strong fencing type when it comes to wind resistance, using horizontal slatted boards spaced apart so as to have visible gaps in between.
Slatted fencing comes in a variety of designs, from Louvre slatting, where angled slats are positioned in overlapping rows (much like Louvre blinds) to Venetian slatting, where the wooden boards are laid flat in distinct rows. These offer a range provide privacy whilst still allowing for airflow.
Metal Fencing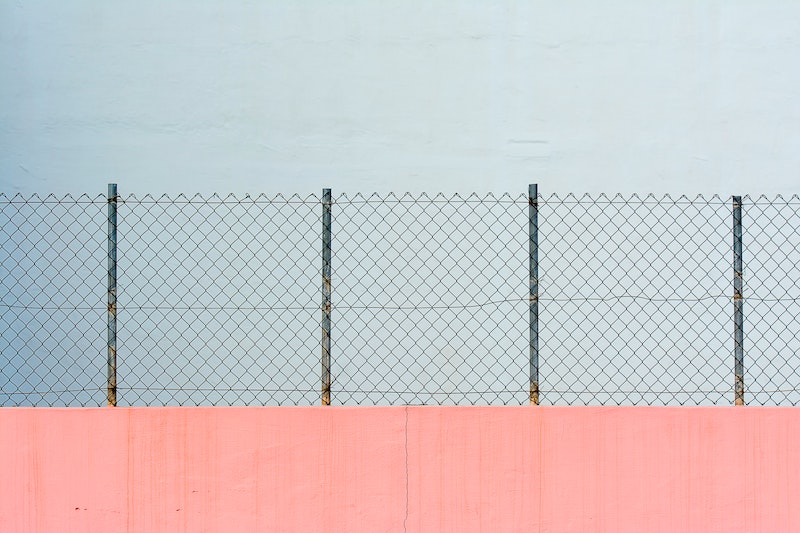 Metal fencing, usually made from steel or aluminium, can be stronger and more durable than many other fencing materials. It can withstand higher wind forces without bending or breaking, making it a good choice for areas that are particularly wind-prone.
Wire mesh and chain-link/cyclone metal fences are particularly good at wind resistance, but there's no denying that they look more suited to industrial areas and sports pitches than they do residential homes.
There are, however, more aesthetically pleasing design alternatives when it comes to metal fencing, such as those featuring thick metal slats (often coloured black), which give a more modern appearance to your garden. It's still important to choose designs that allow for wind to pass through, even when using metal as a material.
Vinyl Fencing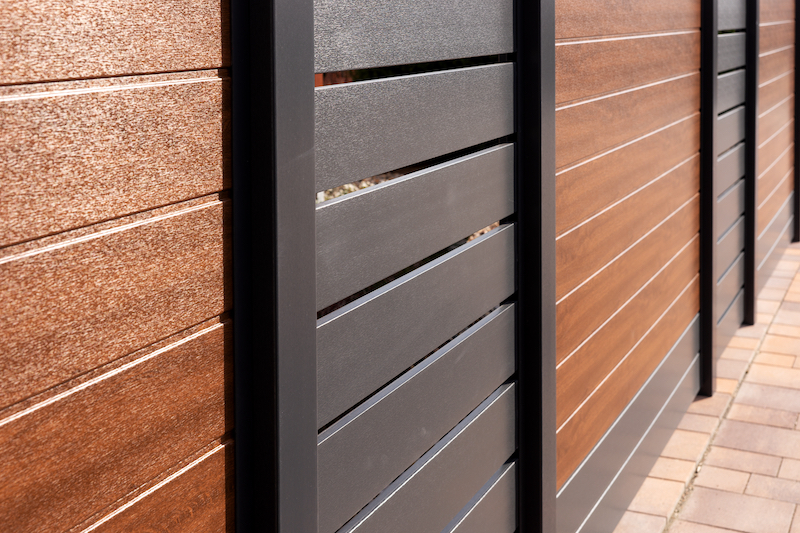 Vinyl fences are made from PVC (polyvinyl chloride) material, which offers strength and durability.
The flexibility of PVC allows the fence to absorb and distribute the force of strong winds, reducing the risk of damage or breakage. Unlike wood, vinyl doesn't absorb moisture, meaning that it's less prone to water damage which can make a fence more susceptible to wind damage.
However, PVC is considered incredibly harmful to the environment as it produces hazardous byproducts during production and is made using fossil fuels. It's also not biodegradable, so if sustainability is important to you this may not be the right option.
However, just like other materials, the best vinyl fences for wind resistance are those that incorporate open designs, such as slatted and picket.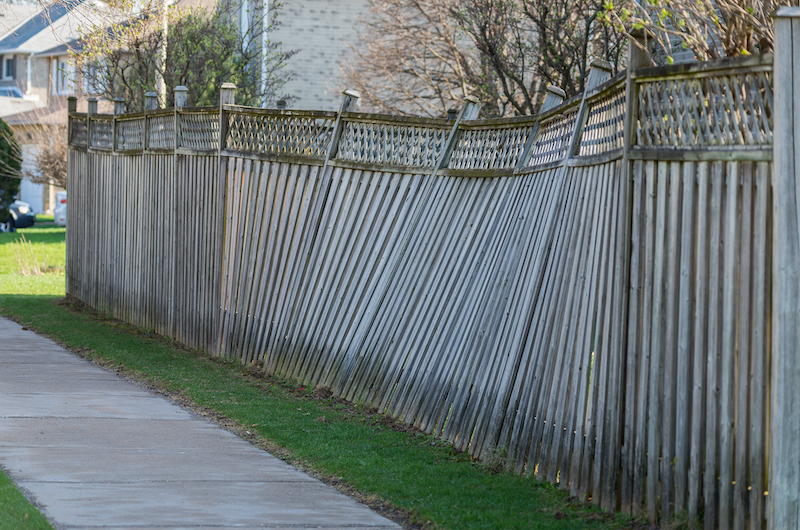 2. What are the best fence posts for windy areas?
Whichever type you choose, it's important that you source strong fencing posts from a reputable supplier who can provide you with a reliable guarantee.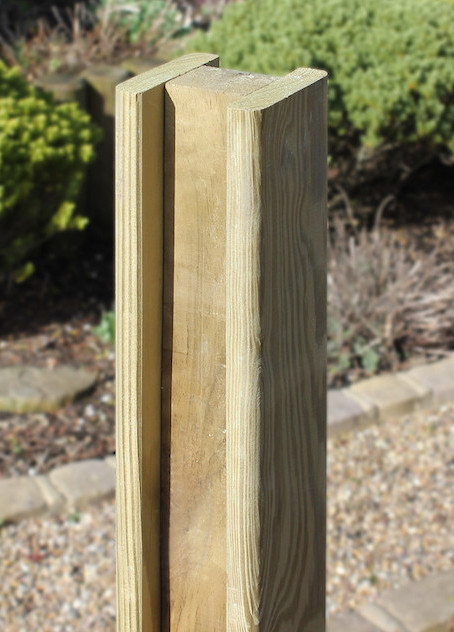 Slotted fence posts
Similarly to tongue and groove fence panels, slotted posts work by enabling the fence panels to interlock into the post, which provides extra stability and support.
They're lighter and easier to install than concrete posts, and typically made from pressure-treated timber, which offers a more natural appearance and is the most sustainable option when it comes to fence posts. However, they do require more maintenance and can be prone to wear and tear.
If you're looking for a long lasting, high-quality material for your fence posts, we recommend buying UC4-treated timber, which offers particularly strong protection against decay and moisture-damage.
Concrete fence posts
Concrete fence posts are highly durable and can withstand all sorts of movement and pressure from the elements. Many concrete fence posts even come with steel reinforcing bars fitted inside the post, so if you're looking for something that requires minimal upkeep whilst withstanding extremes of weather, concrete fence posts may be for you.
However, it should be noted that concrete fence posts aren't impenetrable, and if they crack or chip, this may allow moisture to seep into the interior and lead to gradual post failure.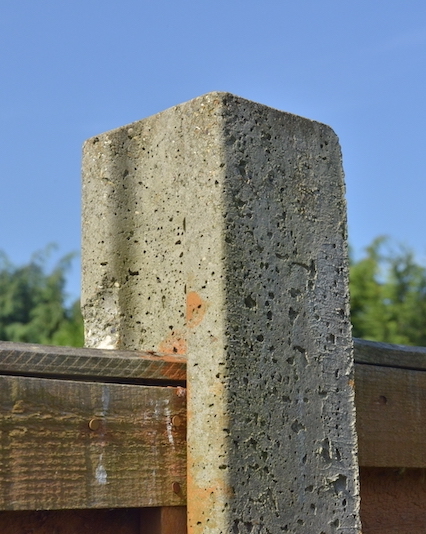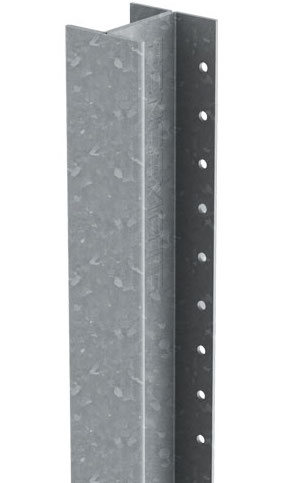 Steel fence posts
Though generally less popular than timber and concrete, you can also opt for steel fence posts, which also offer strong durability and wind resistance.
Typically made from galvanised steel and finished with a powdered coat, these types of fence posts can last up to 50 years. In contrast, concrete is said to last up to 20 years, and woods like timber tend to have a lifespan of between 10-15 years or 20-30 years with post rot protection. Steel fence posts won't crack or chip like concrete, though over time, they can be prone to rust, especially if they're not galvanised.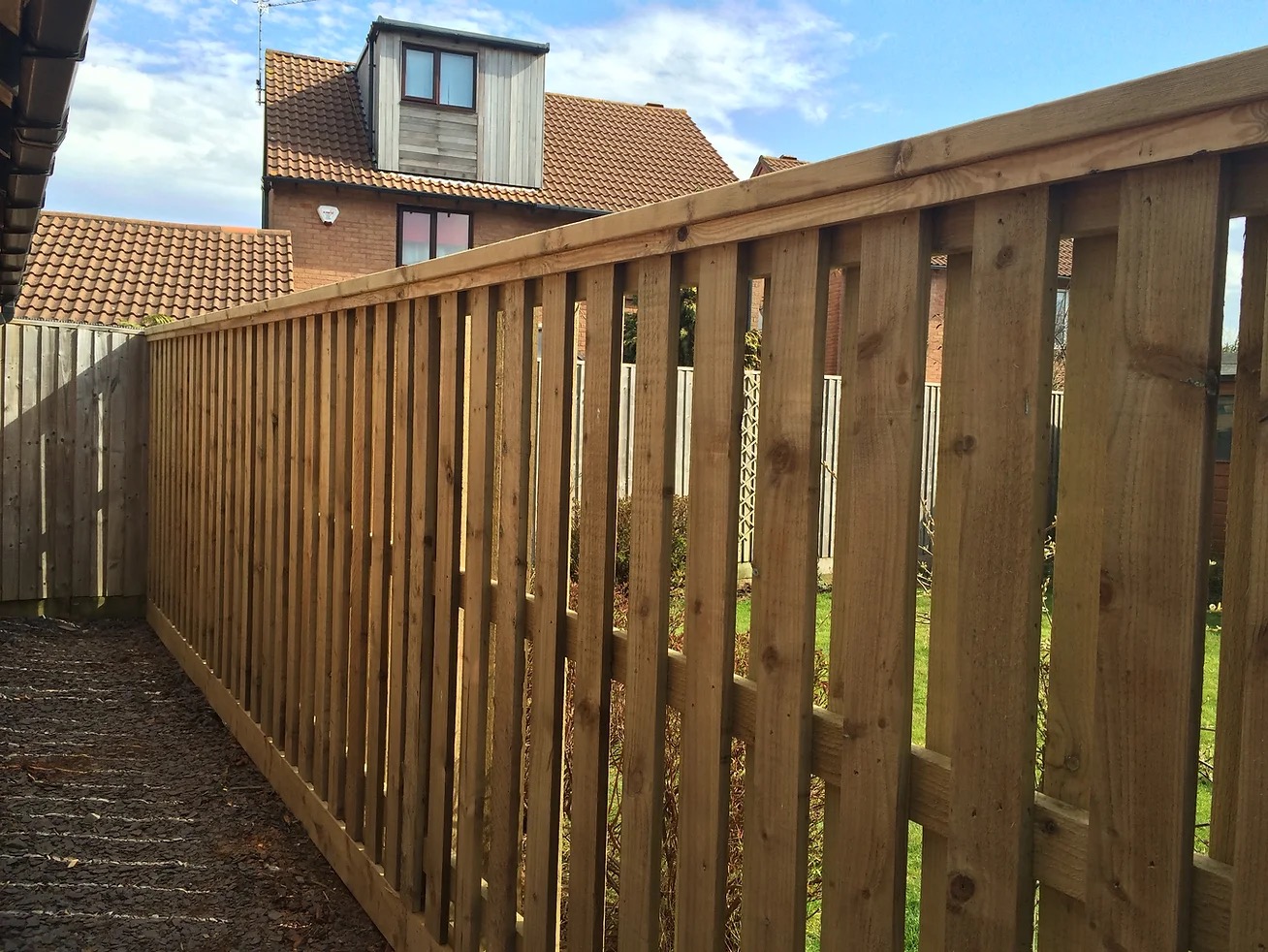 3. How to install a fence in windy areas
If your garden is particularly prone to exposure to the elements, there are some extra precautions that you need to consider. It's worth considering hiring a local fencing contractor to help you install your fence for maxmium reliability.
Post anchoring and spacing
It's generally recommended that you have 2ft (60cm) of your fence post buried beneath the ground to ensure efficient stability. However, if the wind is a particular concern in your area, then you should secure your posts a little deeper than this for extra protection (up to half the total length of the fence post). Digging such deep, narrow holes can be a pain, but Postsaver Post Hole Digger is designed specifically for posts of a 6-inch diameter, allowing you to remove exactly what you need with limited backfill.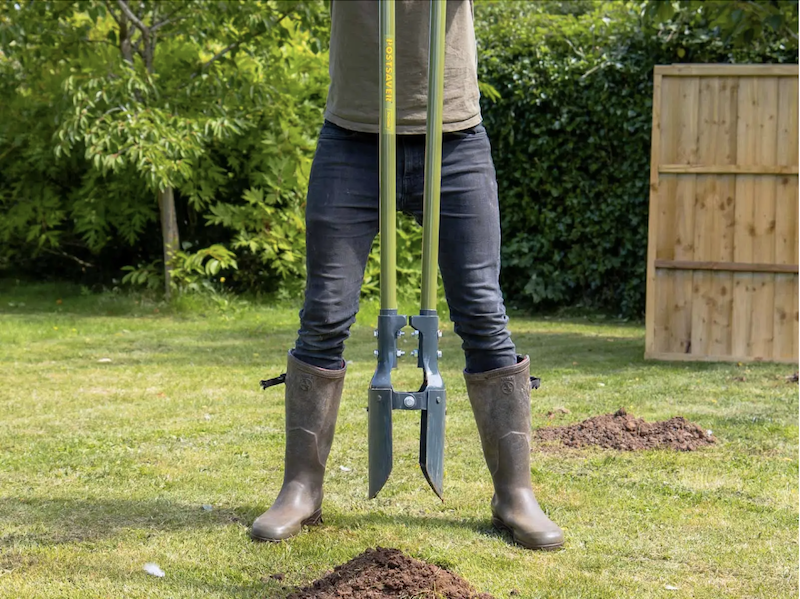 It's also a good idea to keep the space between your fence posts to a minimum if your garden is particularly prone to gale-force winds. Between 4-6 feet is ideal if your garden and panelling allow for it.
Fixing foams
Whilst you may see recommendations to anchor in your posts using concrete for extra stability, there are also post-fixing foams that can do just as good a job without the faff and heavy lifting that concrete involves. Postsaver Pro-Set Post Fixing Foam offers the same lateral load strength as concrete and hardens to a full load strength in just 90 minutes, meaning you can secure your fences in record time and rest assured that they'll stay in place.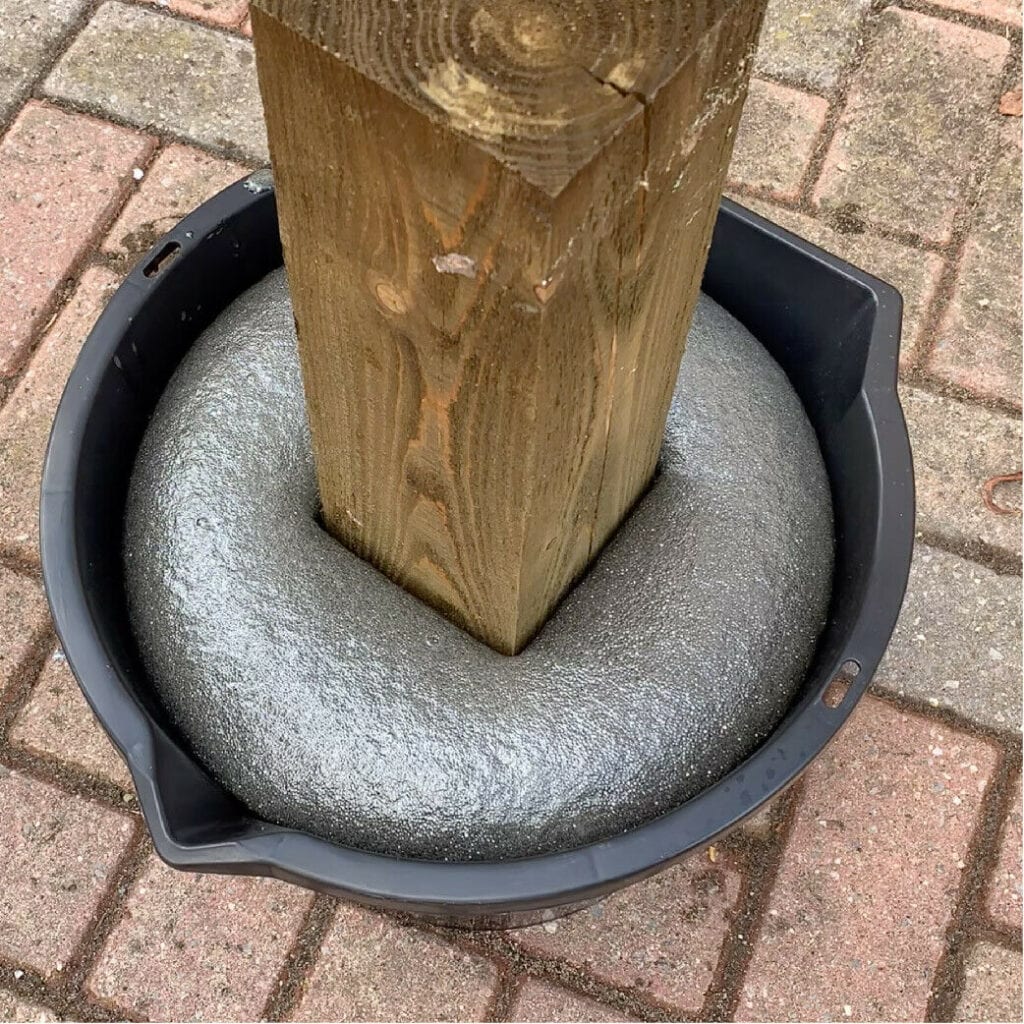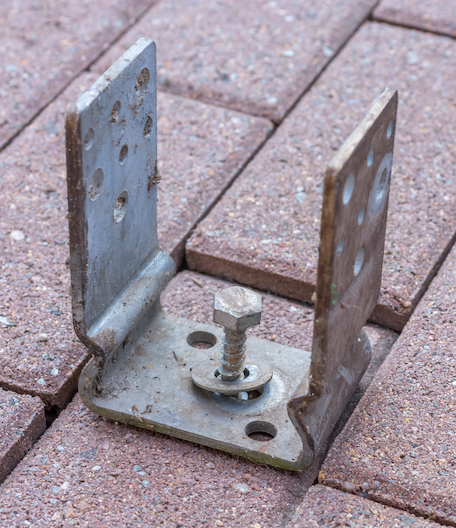 Bolt-down shoes
However, if your fencing is fixed on top of solid ground (such as concrete) rather than soil, then you can secure your posts with a fence post support such as a bolt-down shoe. This way of securing posts means that there is no foundational support beneath the ground, so it's crucial that you use quality equipment and secure them to a professional standard.
Gravel boards
Gravel boards can also help to provide an extra layer of stability against wind and seasonal movements. These concrete or wooden boards sit in between your fence panels and the ground beneath, which also helps to protect your fence panels from moisture damage and rot caused by direct contact with the wet ground.
It's important to cut holes in your gravel boards to allow wildlife such as hedgehogs to roam freely and travel between gardens. You can fix these wildlife corridors with frames such as our Hedgehog Highway, which add a creative flare to your garden whilst helping to support local wildlife.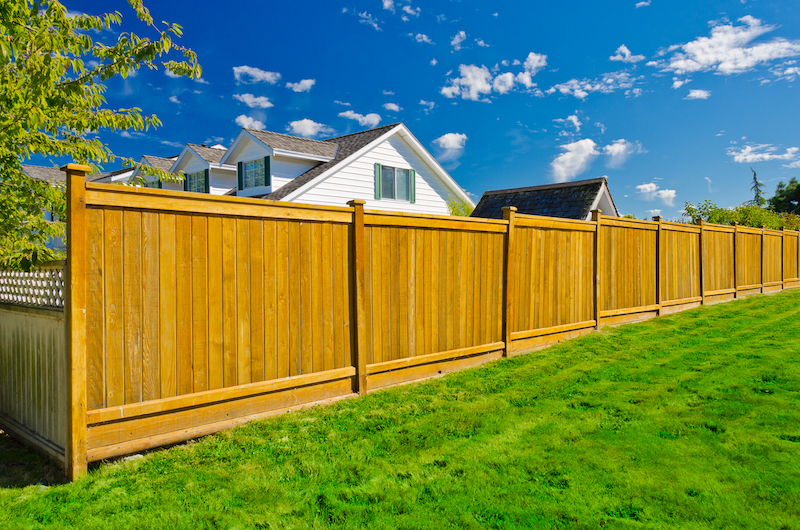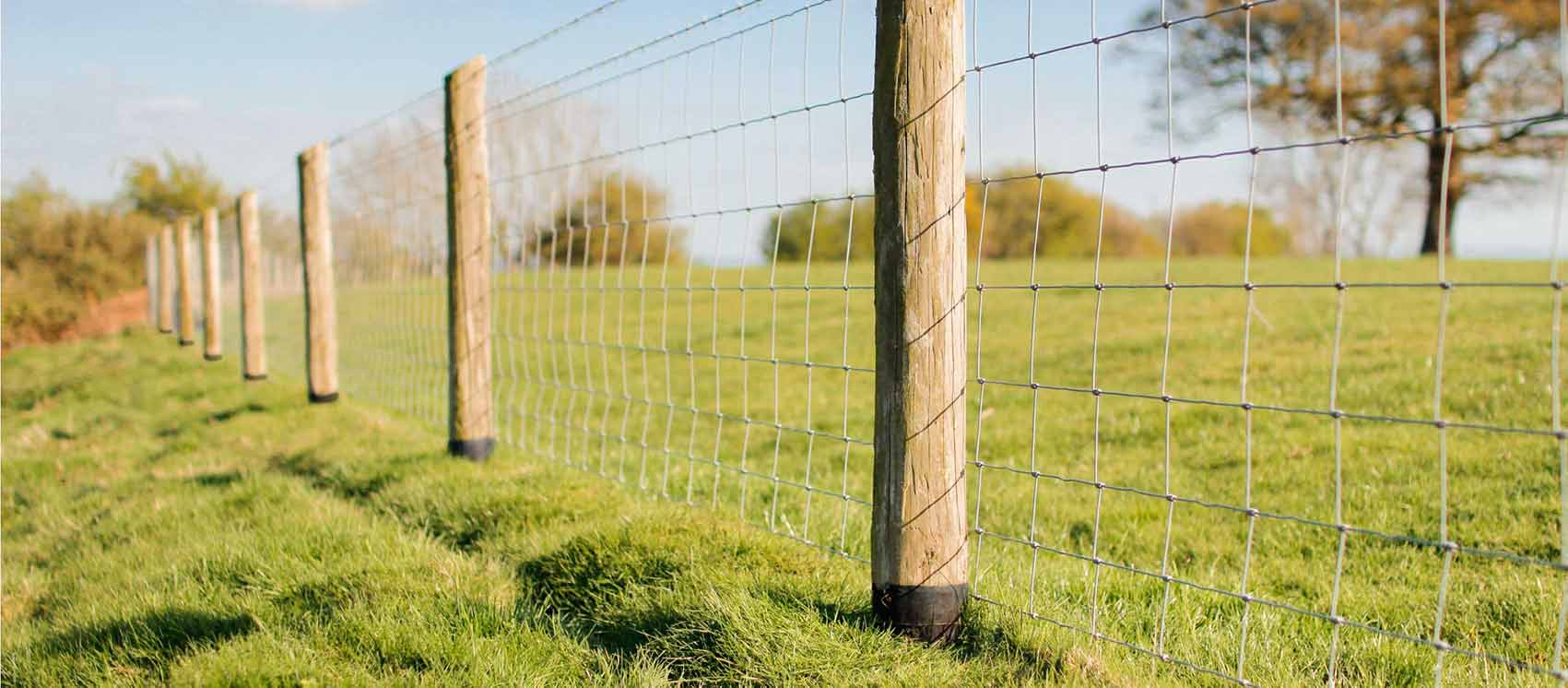 4. How to fix a wobbly fence post
Loose and wobbly fence posts can threaten the structural integrity of your entire fence and make it particularly vulnerable to wind damage.
To fix this issue, you first need to identify the point of weakness in your fence post. Can you see signs of rot in your post? Or perhaps a piece of hardware such as a bolt or nail has come loose? It could also be loose soil in the ground, or that your fixing foam or concrete is no longer anchoring your post efficiently.
Even if the damage seems minimal, these small points of failure have a tendency to snowball into larger problems that can cause your whole fence to come loose or fall down. It's important that you catch these issues early so that you can reinforce your fence and ensure that it retains its structural stability.
Replace your posts
If your issue is post-rot, you may have no other choice but to replace the post. When you purchase your new post, it's important to consider how you can avoid post-rot in the future.
Postsaver Post Rot Protection is a reliable way to protect your fence posts against ground-line rot and decay, creating a barrier that stops moisture from penetrating the post.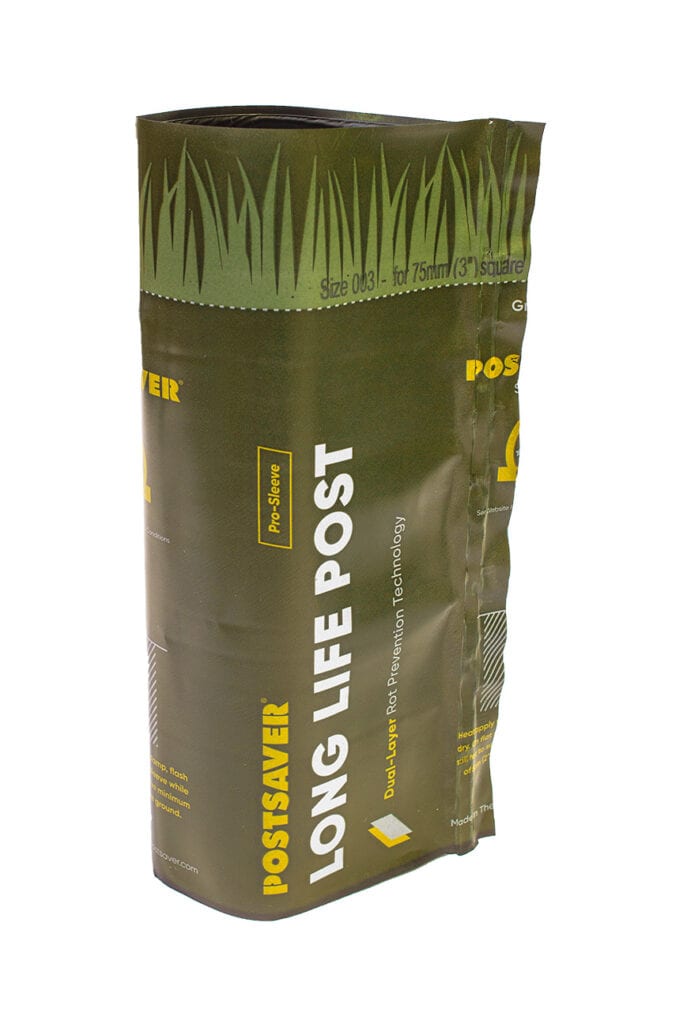 Reset your posts
If the fence post itself shows no sign of damage, the issue could be with the anchoring of your post in the ground. If your post is fixed in soil or soft ground, you may simply need to dig around the post and re-apply fixing foam or concrete to secure it in place.
Use a post spirit level to straighten your post into the right position before you secure it in place.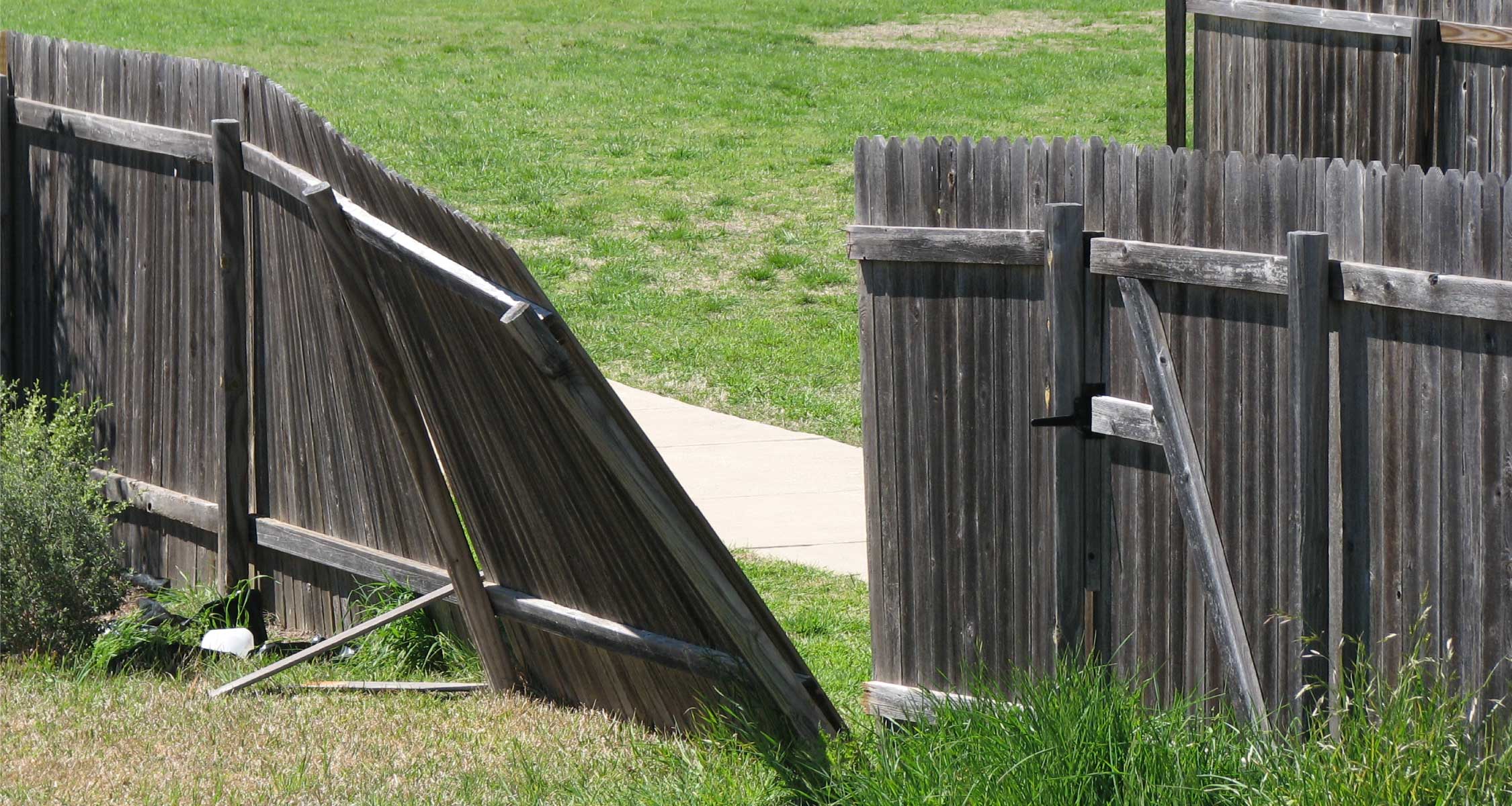 5. What to do if your fence has blown down
If your fence has already succumbed to high winds and you're wondering how to go about repairing it, there are some important things to consider. For more advice, visit our page on Fence Repair Following High Winds.
Insurance and guarantees
Most building and home insurance policies will cover some level of protection against damaged garden structures such as gates, fences and sheds. Generally, these policies will cover the cost of repairs required from unexpected events like fire and vandalism, however, damage from high winds and storms is often not included.
If you are lucky enough to have a policy that includes fence damage caused by storms/extreme weather, you'll have to make sure that your fencing is properly maintained for your claim to be accepted. It's always best to check the details of your plan with your specific insurance provider and to keep hold of any receipts of items you may need to use in your claim.
Nowadays, most suppliers will also offer guarantees or warranties for the fencing that you purchase from them. These typically mean that if your fence or post is damaged due to a design and manufacturing defect, the supplier will replace the item free of charge. If you believe that your fencing has been damaged due to a design or manufacturing defect, get in touch with your supplier.
Repairs
If your fence is salvageable and has simply come loose during high winds, you can repair the damaged areas and secure it back in place.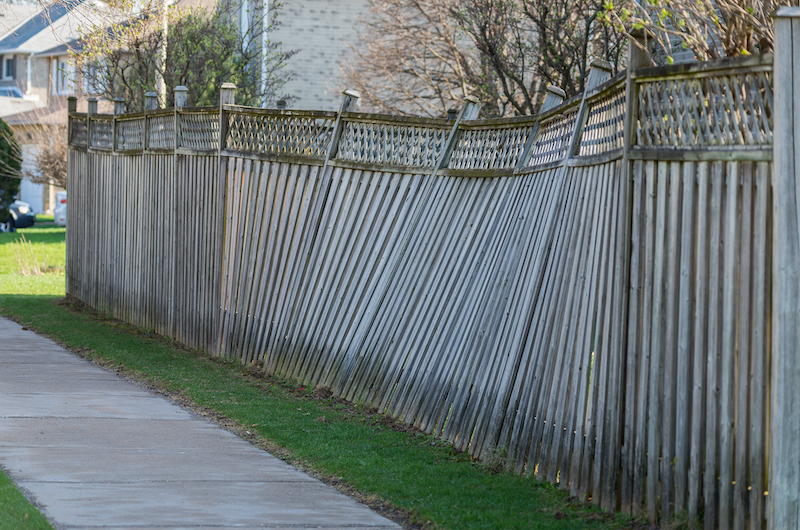 Replace any broken panels or boards and reattach any displaced components. Use screws instead of nails where possible to ensure that they stay in place in the future, and tighten any existing screws that may have come loose. Once you have your fence back in place, it's a good idea to re-treat your posts and panels to protect them from future water damage.
You can purchase concrete or metal post repair spurs, which provide a solution to posts that have succumbed to rot at the base. These are short posts that bolt into your post and anchor into the ground next to it. These may be ideal if you're planning to replace your fence in the future but want to ensure that it stays intact until you get around to it.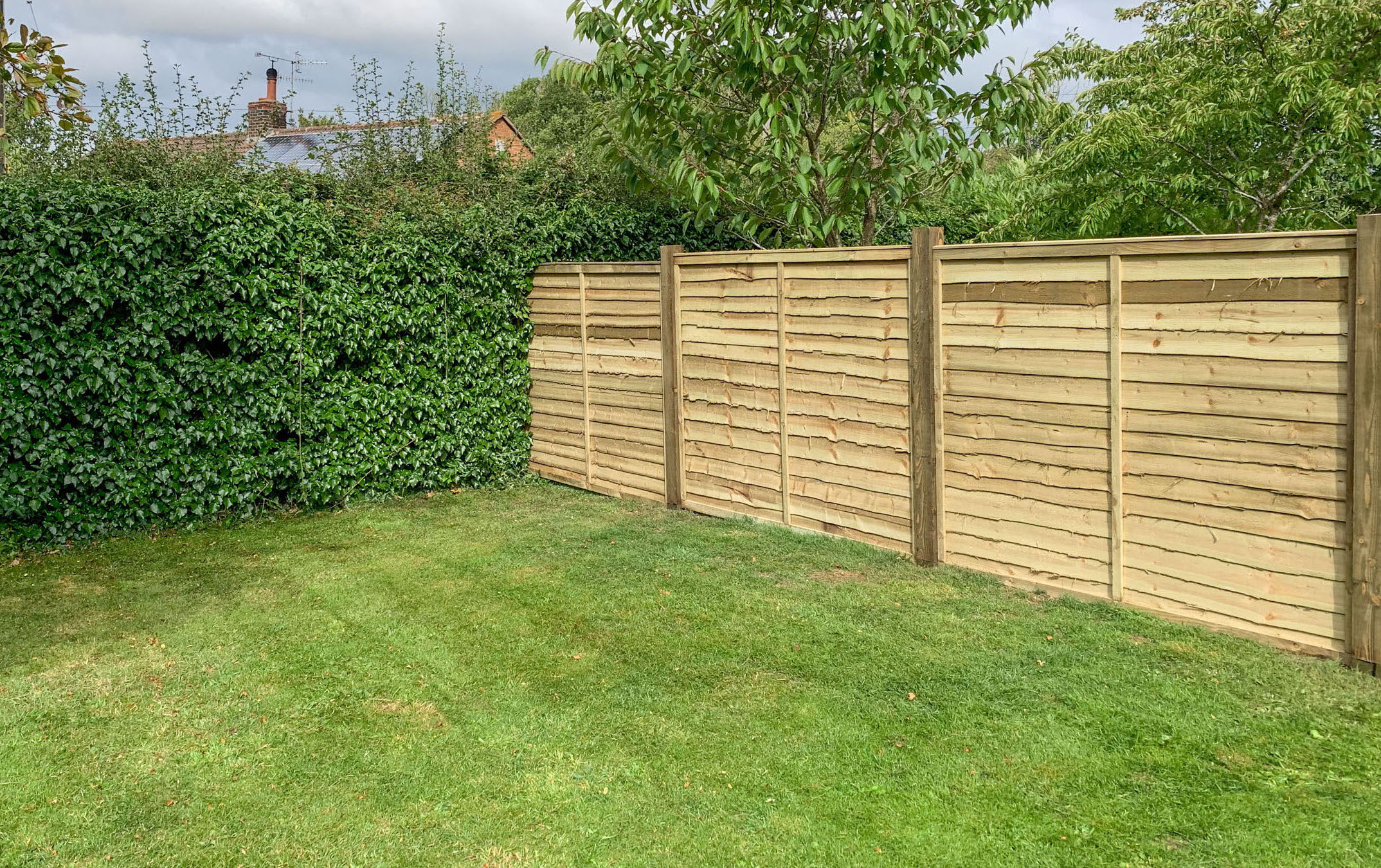 6. How to prepare for high winds

If your fence is generally pretty sturdy but you're just anxious about an upcoming storm or hurricane, there are a few precautions that you can take to secure your fence in preparation for high winds.


Secure garden objects and trim branches


Firstly, you want to take some measures that will avoid objects blowing into your fence and causing damage or prompting it to blow over itself. Trim any large branches that overhang your garden, and secure garden furniture and features (that you can't store elsewhere) with sandbags.

Lock your gates


Make sure any gates are securely locked as strong winds will likely blow them open if they're left unlocked, which could cause damage to the hinges and or the fence, and could even blow them off their hinges entirely.


Image by Flash Dantz

You can also install drop rods or drop bolts to the bottom of your gate to add stability and reduce the stress on the hinges.

Hurricane straps


Hurricane straps, also known as hurricane ties or hurricane clips, are designed to reinforce the connections between fence posts and panels. They are usually made using galvanized steel or other corrosion-resistant materials and are effective at preventing the fence from being easily lifted or blown over by strong winds.

Windbreak netting


Windbreak netting, also called wind protection netting or wind mesh, is a specialised fabric that can significantly reduce the impact of strong winds on crops, plants, and structures. Good windbreak netting can reduce the impact of wind by between 30% to 50%.

Windbreak netting consists of a knitted mesh design made from heavy-duty plastic or polyester fabrics that provide high-tensile strength. This type of windbreak fence style is often used to create a wind barrier in agricultural fencing in order to crops and livestock from damage in wind-prone areas.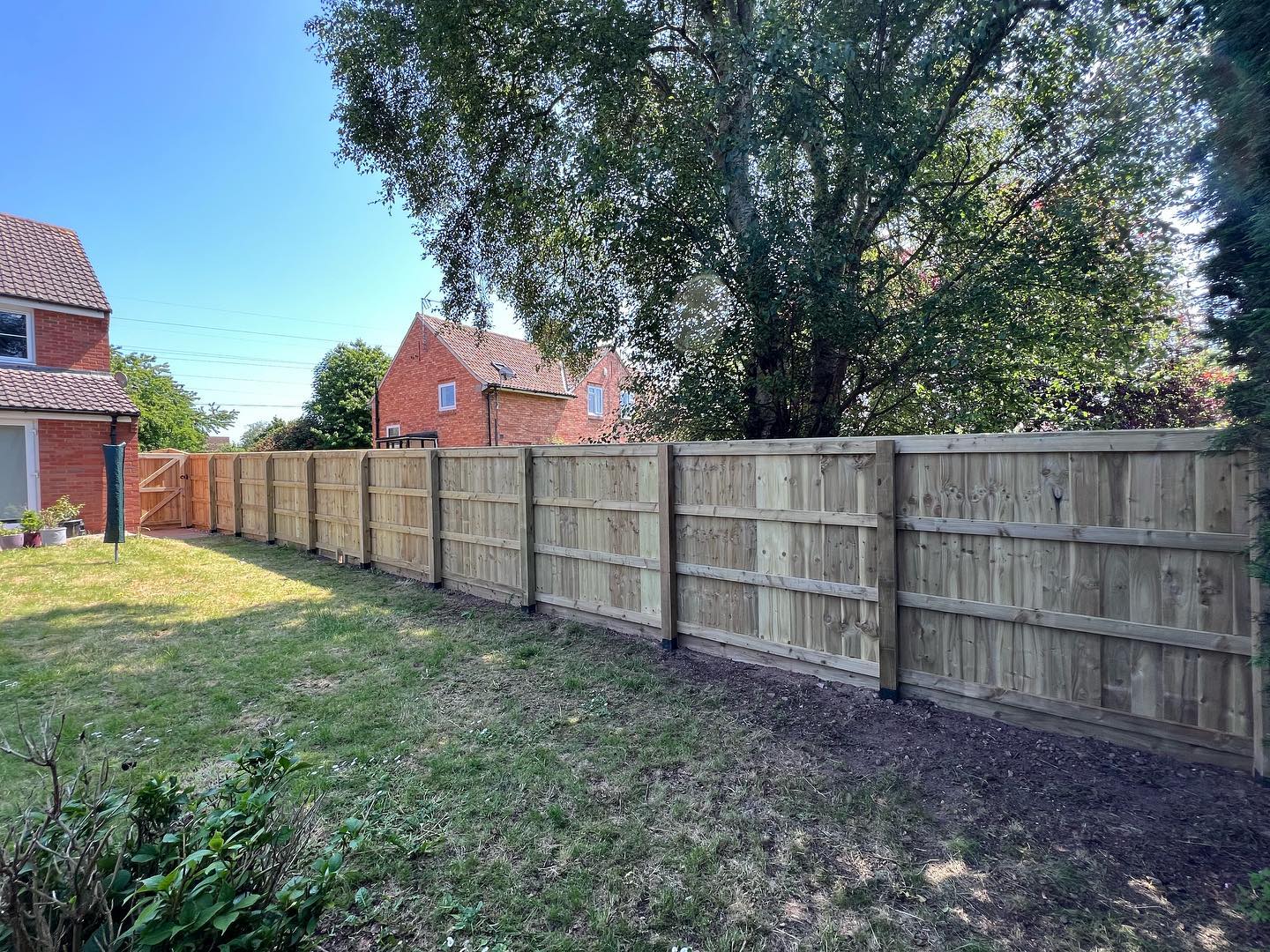 7. FAQ
What is the strongest fence style?
This varies depending on who you ask, but it's generally agreed that the strongest fence styles are those that incorporate a semi-open design that allows the wind to pass through. Metal chain-link fencing is also called hurricane fencing, which gives you some idea of its reputation as a strong fencing type against wind resistance, whilst vinyl fences are also commonly noted as a particularly strong fencing style due to their flexibility.
How much wind can a fence withstand?
The amount of wind that a fence can withstand depends on several factors, including the design, materials, height, and the specific wind conditions of the area. As a general estimate however, some wood fences can withstand up to 60mph, vinyl fences up to 80mph and some metal fences can brace hurricanes and still remain intact.
Is composite fencing good in wind?
Composite fencing generally offers a fair amount of wind resistance due to its combination of wood fibres and recycled plastic that make for a durable and sturdy material. It's considered resistant to rotting, splintering, and moisture damage, which can weaken a fence over time. The durability of composite materials contributes to their ability to withstand wind forces, however, as most composite fencing is designed as solid panels without gaps, this can make it more prone to pressure from high winds.
What's the difference between wind-proof and wind-resistant?
When you're shopping around for fencing materials, you may see these terms thrown about a lot. Wind-proof refers to structures that are impenetrable to wind, no matter how strong the winds are. Wind-resistant means that a structure can withstand wind to a superior level, but will still allow wind to pass through.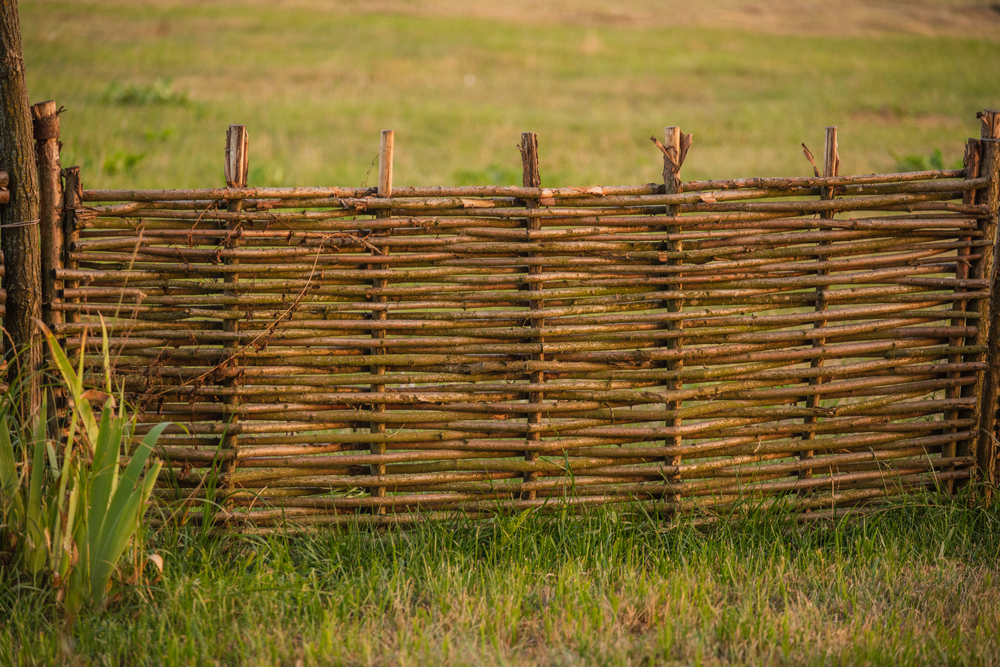 8. Wrapping up
So there you have it - everything you need to know when it comes to windproof fencing! None of us want the hassle and costs of having to repair or replace a blown-down fence, but sometimes mother nature gets the better of us. Luckily, there are things that you can do to amend your garden fence when things go wrong, as well as ways to protect against damage occurring in the future. Prevention is better than cure, as they say, so it's always a good idea to regularly inspect and maintain your garden fence, as well as repair any damages promptly to prolong its lifespan.