5 Quick Advantages of Wooden Fences
Wooden fencing has been a staple in UK gardens for centuries. Not only does it complement your natural space perfectly, but it's also one of the most environmentally friendly types of fences you can specify. In this article, we'll run you through 5 of the main advantages so you can see why you might want to consider choosing it as your material of choice for your next garden fence.  
Contents
1. Affordability
When it comes to fencing options, wooden fences are often considered to be one of the most cost-efficient options available. This is mainly thanks to their affordable purchase costs and long-lasting nature. A well-erected fence with rot-protected posts should easily last over 30 years and often longer depending on the type of timber used and the quality of its construction. We have had reports of some wooden fence's that are still standing for over 80+ years from some of our customers.
Another big benefit of wooden fences is they can easily be installed and erected by anybody with some DIY experience and a can-do attitude if you don't have the budget for a fencing contractor. Unlike concrete or metal fencing, wood is also relatively lightweight and light enough for somebody to single-handedly work with and erect.  
Over time, wooden fences are also flexible in the way that they can be easily repaired and refinished instead of being entirely replaced to help give your fence a new lease of life and change the look and feel of your garden without needing to replace your whole fence.
2. Durability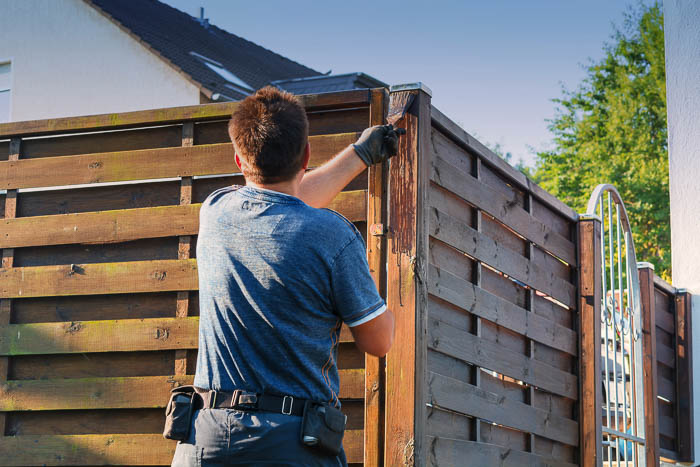 A well-maintained and constructed wooden fence can last for years. They are very durable and subject to the correct care and treatment can be very weather resistant. From close board to Venetian panels, from picket to hit and miss, all are great types of fencing solutions for putting up a durable and long-lasting garden fence.
Of course, different types of wood will have different lifespans and it's worth considering the different types of wood that fence panels or slats are made out of when choosing your fence. For example, hardwoods such as oak will be far more long-lasting than softwood tongue and groove panels.
One way to make sure your wooden fence lasts is to use a fence stain or wood sealer such as Creostain every 2-3 years to seal the wood from moisture and protect it from the elements and weather. This can not only help increase the life of your fence but also improve your fence's look by increasing grain definition and adding colour depth to your fence panels.
It's also worth considering that the one weak point of any fence is the supporting fence posts. When placed in the ground, wooden posts are highly susceptible to ground-line rot and decay caused by oxygen, fungi and moisture in the soil. Thankfully products such as Postsaver rot protectors provide a proven and guaranteed solution to this, ensuring that your new wooden fence is free from weak points.
3. Environment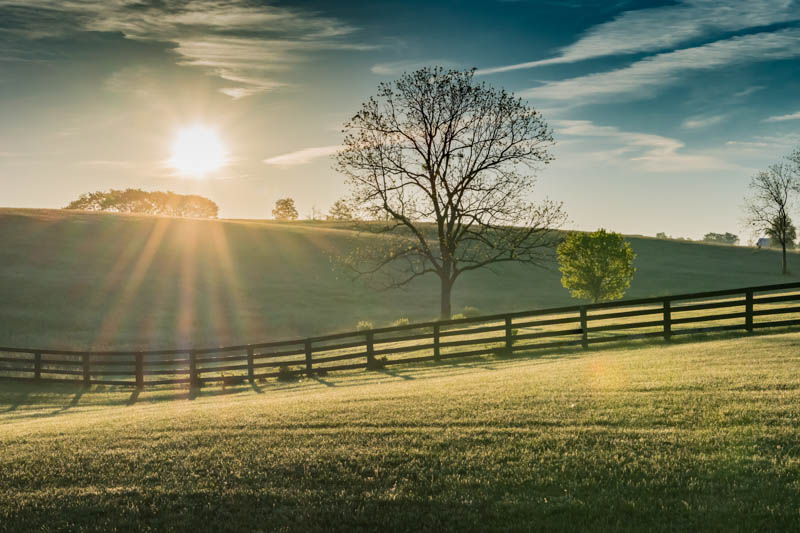 When it comes to the environmental cost of putting up a fence, using wood is the most environmentally friendly option. Not only is wood easily sourced and biodegradable but it is also a natural, renewable resource that far out-performs its steel, plastic and concrete fence counterparts by a huge environmental distance.
What's more, you don't always have to buy new fencing materials. Thanks to wood's versatility and flexibility you can easily re-purpose re-claimed timber from other projects and reduce your environmental footprint even further.
Lastly, wooden fences are also very easily repaired. If for whatever reason your fence gets damaged in bad weather or from an accident in the garden then it's very easy, with a few DIY skills, to fix up and repair your existing fence and its panels back to a serviceable state. Being able to repair vs replace will always be a better solution in the context of your wallet and our environment.
4. Aesthetics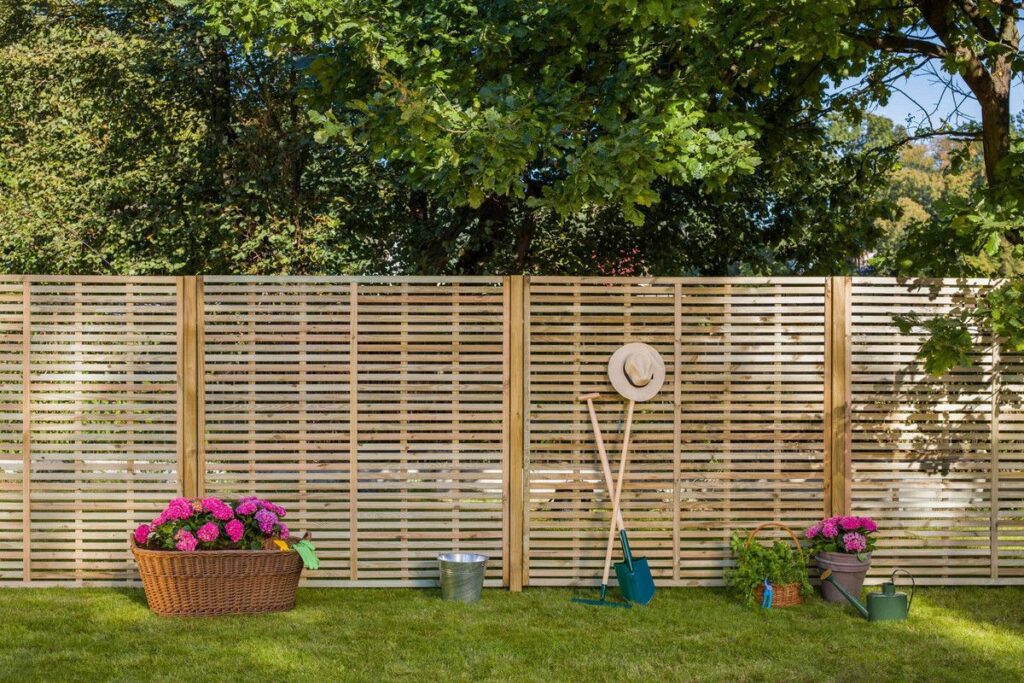 When it comes to aesthetics, wooden fencing is in a league of its own. Depending on your requirements wooden fencing can be the perfect complement to the organic and natural feel of your garden, it just fits. Not only does it look great in comparison to metal and concrete fencing but as we mentioned previously, it is also infinitely more environmentally friendly.
There are so many varieties of fence panels and types available to suit all budgets, tastes and requirements, so take a visit to your local fencing stockist's website and see what they have to offer.
It's worth remembering that if you're looking to put a twist on the natural look, wooden fences are very easy to paint or stain giving you huge flexibility in creating the style and look you want for your garden or outdoor space. What's more, with low-cost electric sprayers you can also cover huge areas of your fence with stain or paint quickly and easily.
5. Customisability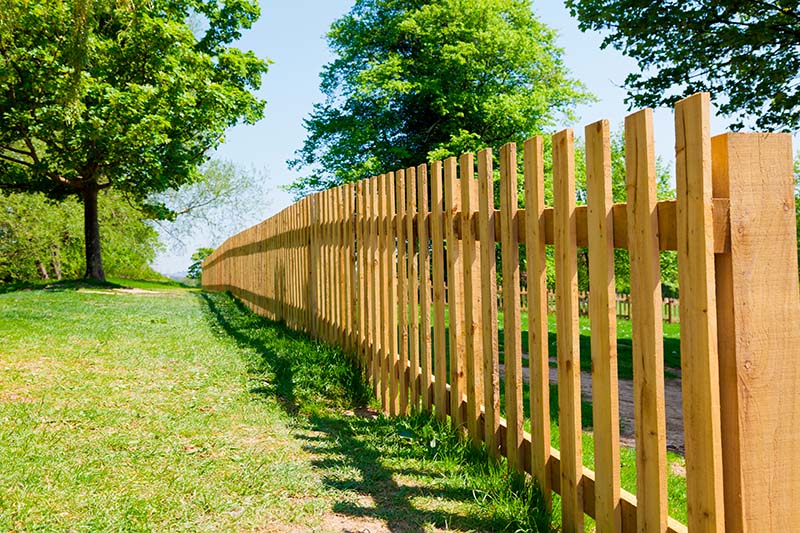 The final string to the wooden fence's comprehensive bow would have to be their customisability. We touched before on the variety of panels and styles available but that's just part of the story.
Wooden fencing comes in so many different shapes and sizes for all kinds of different purposes. This range of types and customisability means that wooden fences are suitable for nearly every type of fencing job. Thanks to the popularity of wood as a fencing material there is also a very widespread supply of the materials, making it easy to bring all your customisation and fencing requirements to life.
Another benefit of wood is that it's also easy to extend wooden fencing if you need to, whether you need extra height for privacy or perhaps you're carrying out a garden re-design, wood makes it easy to add on materials and make changes to your existing fencing project.
Finally, it's also worth remembering that there's a huge range of accessories available for wooden fences such as post caps, finials and even strimmer protectors. So, whether you're looking for a garden-fencing or farm fencing, horse fencing or livestock fencing – wooden fencing has you covered with its immense customisability and material availability.
Wood - The Perfect Material
In summary, wood is a fantastic, natural and beautiful material to make so many different types of fences out of. Not only is it highly customisable but it's also the most environmental solution on the market, meaning that you don't just get a beautiful fence that fits your requirements, but you can also feel good that you've done your bit for the environment.